Congratulations to katherine d, our Mini Pops giveaway winner!  Check your e-mail…there's one waiting for you!  Thanks to all who entered.
I've mentioned before that I like colorful food.  It's not hard for me to "eat the rainbow" as is often recommended, because I love the way it looks on my plate!  The millet, chard and white bean casserole out of 1,000 Vegan Recipes played right into this quirk of mine, with one exception: no orange.  (I'll come back to that later.)
I'll start with what it did have.  Millet, chard and white beans, of course, along with cherry tomatoes, onion, bell pepper and fresh dill and parsley.  The awesome thing about this time of year is that I was able to get almost all of the ingredients from farmer's markets!
I'm getting ahead of myself.
Last week, I had a snafu in my grocery trip that led to me going out later than I usually would.  This had me more than a little frustrated until I drove by the ball field across from the local community college and saw the weekly farmer's market going on!  I'd completely forgotten about this smaller, local market.  So on my way back from the store, I stopped and checked out the offerings.  In addition to peaches, peppers, and summer squash, I came home with some very lovely rainbow chard.  I'd been dying to have rainbow chard and couldn't have been happier to have found it!  Hence…chard in casserole.
Some other ingredients came from my usual weekend haunt, the Troy Waterfront Farmer's Market.  Fresh organic cherry tomatoes, dill from the same farm I usually get kale from, and instead of parsley, I used carrot greens!  Up until a few weeks ago, I didn't even know you could eat carrot greens.  But when I was buying a bunch and the man at the booth asked if I wanted him to take them off, it occurred to me to ask if I could use them in something instead.  No point in wasting, right?  Turns out they make a great herb-type addition to soups, salads and, in this case, dishes that need mild-tasting green seasoning.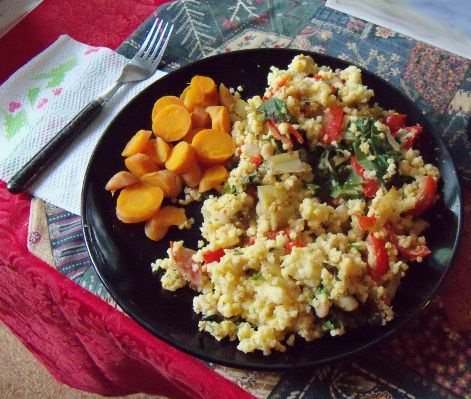 You can see just how colorful the whole thing was in the end.  Though the recipe called for stemming the chard, I saved the stems and sauteed them with the rest of the veggies.  There was no way I was going to waste those beautiful rainbow stems!  But even with that added in, the casserole had a distinct lack of orange veggies.  I thought for a while about what to make as a side and finally settled on simple-yet-tasty steamed carrots sweetened with a little agave.  After all, to get carrot greens you have to have carrots, so why not enjoy even more farmer's market produce in one meal?
Later in the week, I used the rest of the chard to make one of Mark Sutton's Heart Healthy Pizzas: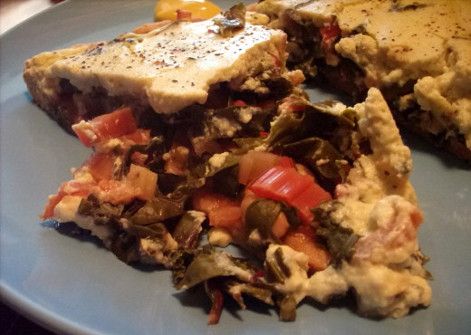 I started with the "Over the Rainbow Chard" recipe and got creative swapping out ingredients and mixing up two topping sauce recipes to create a tofu-lemon-dill sauce.  The end result was very green (which I love) and heavy on the dill (which I also love)!  For the crust, I used half whole wheat flour and half cornmeal, and it came out crunchy and delicious!
Have you been getting a lot of produce from local farmer's markets or your garden?  What are you cooking up with it?  I'd love to hear about your adventures with fresh produce this summer!