When I decided to try the Tempeh Helper recipe from Appetite For Reduction and Mom asked what we were having for dinner, my reply was, "A pasta and tempeh thing."  I didn't think it would go over very well if I told her that I was whipping up the vegan version of Hamburger Helper.  We never actually had Hamburger Helper when I was growing up (although we did eat Rice-a-Roni on vacation a couple of times), mainly because my parents always seemed to have time or make time to cook.  On the rare occasion that this didn't happen, we'd order a pizza.  Eating out of a box was never a "thing" in my family.
I realize this makes me spoiled, lucky or both.  Yes, there was the ubiquitous blue box of mac and cheese from time to time and we swore by Stovetop whenever we needed stuffing, but my mom was big on cooking and baking from scratch.  She made sure that both my brother and I were involved in kitchen projects when we were kids.  This probably goes a long way toward explaining why the transition to veganism wasn't too hard for me; I already knew how to cook and only had to learn how to apply it to strictly plant-based dishes.   So why go for something that is, essentially, a vegan reboot of processed boxed food?
Call it curiosity.  Call it nostalgia.  Call it a craving for comfort food.  Whatever it is, the recipe has jumped out at me more than once on my perusals of that book, and at last I had to give it a shot.  (There's also a version of it on the Post Punk Kitchen blog, if you've got a craving.)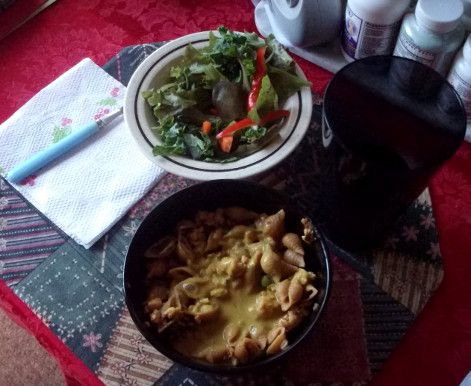 One rather nice thing about the recipe is that there is absolutely no chopping whatsoever.  If you've had a long day, or it's hot out, or you're like me and have a tendency to max yourself out with hand weights at 4am, that can be a big bonus.  It also frees you up to make something green as a side dish, since the only semblance of a vegetable in the "helper" itself is a handful of frozen peas (though I did thrown in a few extra).  I went with a lettuce and kale salad with some chopped veggies and pine nuts, which made a very nice complement.
Not chopping also makes it easy to coordinate the cooking of the tempeh, the pasta and the "cheese" sauce.  I was already familiar with the latter, having made it before for Mac & Trees from the same book.  It's a quick, multipurpose nutritional yeast sauce that you could use on just about anything, though I have to admit I was a little skeptical about how it would work along with the seasonings for the pasta and tempeh.  Come to that, I was skeptical about cooking the pasta the way the recipe directed.  Could pasta really cook well in a skillet with only a cup or so of water?  Never having tried it, I wasn't sure how well it would work.
Turns out I didn't have anything to worry about. It all cooked up just fine, though I would brown the tempeh a little more next time.  I wound up cooking the sauce down for a bit longer than recommended to give it a thicker texture.  I'll admit I was expecting something with a bit of a crunch for some reason, probably because I'm a sucker for fried noodles, but the overall texture was decidedly chewy.  I used a deep saute pan, so I wonder if a nonstick skillet might add a bit of "fried noodle" texture to the pasta?
Either way, I like how it all turned out.  With the "cheese" sauce poured on top, it made a delicious bowl of comfort food.  It was easy to make, and I think it would satisfy any craving for those processed boxed foods we all try to give up but can't help having fond memories of.
Just a head's up that my posts might be a little sporadic over the next few weeks because I'm embarking on the T. Colin Campbell Foundation certificate program in plant-based nutrition!  Though it won't qualify me to be an official nutritionist or anything like that, I'm hoping that it will equip me to deliver better information to people about the health benefits of whole-foods, plant-based eating.  There's a lot of ground to cover in a short time, so bear with me if the blog is a bit quiet this summer!