Substitutions in baking don't always work out the way you intend them to.  Sometimes you wind up with a total mess, while other times you get a nice surprise.  I'd put these muffins somewhere in between.  The substitutions I made were out of necessity, and the only complaint I had was that they didn't rise very much.  So they were a success, albeit a bit of a "rustic-looking" success!
The original recipe came off the back of a box of Hogsden Mills hot cereal and called for some of the cereal as a dry ingredient.  The rest was pretty simple, and the only non-vegan ingredients were some milk and an egg, so adapting it was a snap.  However, I found myself in an interesting position the second time I wanted to make a batch.  We were very nearly out of both whole wheat pastry flour and spelt flour, my two go-to flours for muffins; and there wasn't a whole lot of the dry cereal left, either.  The only thing to do was improvise.
I looked around at what we did have and wound up swapping wheat bran for the cereal and oat flour for the regular flour.  I also added some raisins, which weren't included in the original muffin recipe.  As usual, I used maple syrup instead of sugar and applesauce instead of oil–both of which I'd tried the first time around and had success with.  The result was a dense and tasty muffin that was good with all sorts of different "toppings:" almond butter, sunflower butter, raspberry jelly and even chocolate raspberry peanut butter!
As sort of an added bonus, these are healthy muffins that don't taste healthy.  There's very little sugar and a lot of whole grains, plus the carrots and raisins.  The batter winds up very chunky and can just about support a half a cup of nuts, but I wouldn't add anything else for fear of them falling apart.  Also, if you don't have any oat flour hanging around, you can make your own by grinding regular oats in a blender (about 1 1/4 cups to make 1 cup of flour).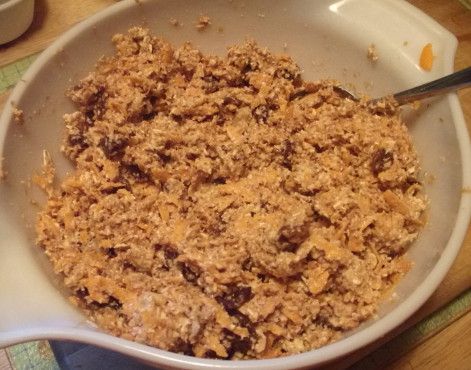 Wheat Oat Muffins with Carrots & Raisins
Ingredients
1 cup wheat bran
1 cup oat flour
2 Tbsp baking powder
½ tsp baking soda
1 Tbsp maple syrup
½ cup nondairy milk
1 Tbsp ground flax seeds mixed with 3 Tbsp water
¼ cup unsweetened applesauce
1 tsp pure vanilla extract
1 cup shredded carrots
½ cup raisins
½ cup chopped walnuts, optional
Instructions
Preheat the oven to 400F. Grease or line a small 12-cup or a large 6-cup muffin tin.
In a large bowl, combine the wheat bran, oat flour, baking powder and baking soda, stirring well to combine.
Add the nondairy milk, maple syrup, flax seed mixture, applesauce and vanilla. Stir until moistened. (Batter will be thick.)
Fold in the carrots, raisins and walnuts (if using). The batter should look chunky and "rustic."
Divide the batter equally between the prepared muffin tins. Bake for 20-22 minutes, until the tops are browned and a toothpick inserted in the center comes out clean. These don't rise very much, but they're tasty and hearty!