Have you heard of Tasterie?  It's an innovative new company that aims to provide tasty, healthy snacks to people who are struggling with food allergies.  But it's much more than just a place to get delicious munchies.  With Tasterie, you don't have to spend hours reading labels, calling companies or worrying about ingredients.  They take all the guesswork out of selecting snack foods by bringing together unique products and shipping them out in cute blue "TasterieBoxes" once a month.  A monthly by-mail snack service!  How awesome is that?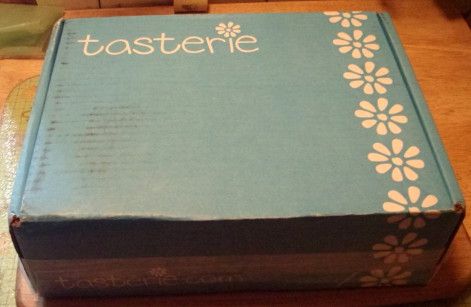 Tasterie uses a careful selection process to screen every snack they provide and ensure that it is indeed free of potential allergens.  As someone who is massively lactose intolerant, I can't stress how important this is.  The number of times I've put something in my mouth, thinking it was okay, and wound up sick for hours afterward isn't something I like to think about.  But with Tasterie, you can rest assured that the snacks you get don't contain anything that might make your body freak out.  All you have to do is select the box you want and sign up for the service.  It's just $29.99 a month!  (Update: As of July, TasterieBoxes are only $20/month, with a $15/month "snack box" option as well!) Not all of their boxes are vegan, but each choice is clearly labeled on the Tasterie website so there's no confusion when you go to choose.  If you want more details, QV interviewed Tasterie founder Dr. Lama Rimawi, and she gave some great insight into the company!
The folks at Tasterie were kind enough to send me their June vegan box to try, which included: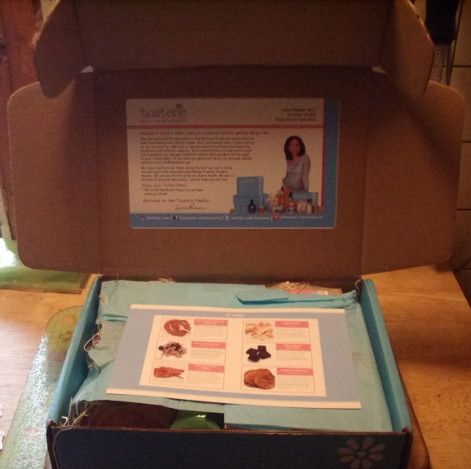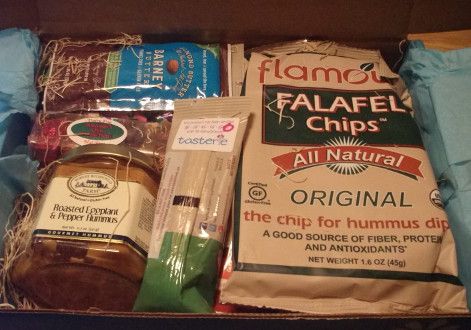 As you can see, this is no skimpy selection!  It's a great balance of full-sized and snack-sized products.  Plus I loved the addition of the recipes.  It's great that Tasterie gives people ideas of what to do with the products right out of the box!  Since I'm a sucker for all things noodle-based, I made plans to try the almond butter stir fry as soon as possible.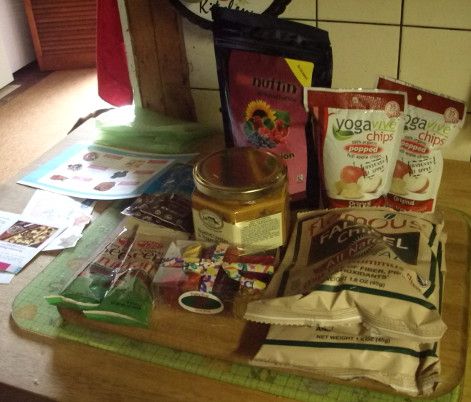 I also wanted to try every single product before making this post, so I could give the best possible feedback on what Tasterie has to offer.  That was a lot of stuff to sample!  Not that I'm complaining; it was all delicious.  Here's a run-down of my experiences with the vegan TasterieBox:
The Nonuttin trail mix had an interesting texture, a sort of "soft crunch" from the sunflower seeds and a zingy, tangy flavor from the mix of dried fruits.  A couple of the fruits had added oils, which I don't usually go for, but it didn't make the mix seem greasy at all.  It went very well on yogurt and is also good for munching by the handful.
The hummus is more like a dip than a spread.  I'm  used to the thick, almost solid texture of the hummus I make, so the thinner consistency caught me off-guard.  The roasted flavor is amazing, though, and it was great on wraps and salads.  The only thing I don't like about it is that it's much more oily than what I'm used to.  It didn't entirely agree with my stomach the first time I ate it; I may have overdone how much I put on my wrap.
I've seen Barney Butter in the store and, though I'm spoiled by raw types, their almond butter isn't bad.  It has a light flavor despite the added oil.  I think it would make a great alternative for people with peanut allergies, especially kids who want a smooth nut butter for sandwiches or crackers.
Yogavive surprised the heck out of me with the apple chips.  I don't eat "snack-type" dried fruit if I can help it, but for these I'll be making an exception.  All that's in them is dried fuji apples, yet somehow they taste like the best candy ever.  I ate them straight up, but I could see putting them in yogurt, on salads, in oatmeal, on top of muffins…
Falafel chips aren't something I ever would have imagined existed, and that would have been my loss.  The Flamous chips reminded me oddly of Doritos, in a non-greasy way.  It's hard to argue with a snack chip that has beans in it!  I haven't tried dipping them in hummus yet, but since the bag claims they're the chip to do that with, I think I probably should.
The chocolates had a really cute presentation: eight little "fancy squares" wrapped in different colors of foil.  I found the texture to be a little grainy, but that didn't affect the flavor.  They're on the sweet side, almost like a vegan version of Russel Stover.  I think they'd make fun gifts for birthdays or Valentine's Day for anyone who misses milk chocolate.
I almost didn't eat the Enjoy Life trail mix because it had tiny chocolate chips in it.  That's entirely my hangup and has nothing to do with how good the stuff is.  Because obviously, I did wind up eating it.  I'm glad I did!  Like the Nonuttin, it was nut-free and had pumpkin and sunflower seeds instead.  It had a little bit of a zip from the dried fruit and the chocolate chips didn't overwhelm the flavor.  I though there was kind of a salty aftertaste, but it was a great little snack otherwise.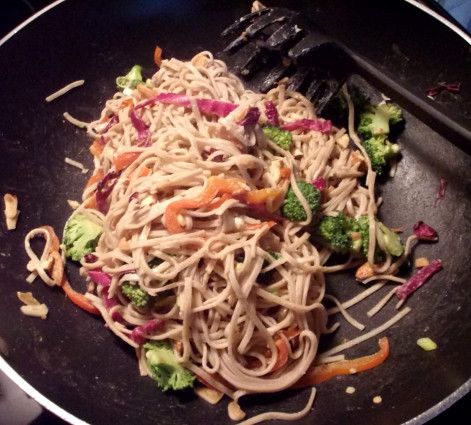 And then there was the almond butter stir fry.  It was a pretty basic noodle-and-veggie stir fry dish with a sweet and spicy sauce made with the Barney Butter, some rice vinegar, soy sauce and red pepper flakes.  The recipe recommended using gluten-free noodles, but since I don't have a problem with gluten, I used organic soba.  It was a great combination!  It was also really easy to make, which can be a plus when you're working with new ingredients.
In short, I absolutely loved my Tasterie box and would recommend the service to fellow vegans, parents of kids with allergies and anyone who wants a healthy snack without a lot of hassle.  Check out Tasterie.com/shop for information on how to sign up!  You can also follow Tasterie on Facebook, Twitter and Pinterest!