Most people who go to bed thinking, "Waffles!" probably get up and make them the next morning.  But I'm weird (and proud of it).  I don't eat waffles for breakfast.  Or pancakes.  Stuff like that sits heavy in my stomach in the morning and makes me feel kind of gross for the rest of the day.  Breakfast food for dinner, on the other hand, is an entirely different story.  So when I went to bed with waffles on the brain earlier this week, I woke up with a brunch menu planned for dinner.
Going to brunch at X's to O's has given me a lot of inspiration for brunch foods.  She's done everything from "diner food" to biscuits and gravy, usually with some kind of fresh salad or steamed greens as a side.  Roasted root veggies figure in largely to a lot of her spreads too.  So for my final brunch-for-dinner menu, I went with waffles, roasted sweet potatoes and kale salad.
The kale came from the abundance of greens at the farmer's market.  I wish I had taken pictures when Mom and I went last week; the selection was amazing.  Denison Farm's stand alone had kale, collards, broccoli rabe, a huge collection of fresh herbs and so many different kinds of lettuce that I can't remember them all.  I grabbed a big bunch of kale for $3 and some arugula from another vendor, which I've been enjoying in salads.  I could easily have blown a week's budget just on green veggies if I'd let myself!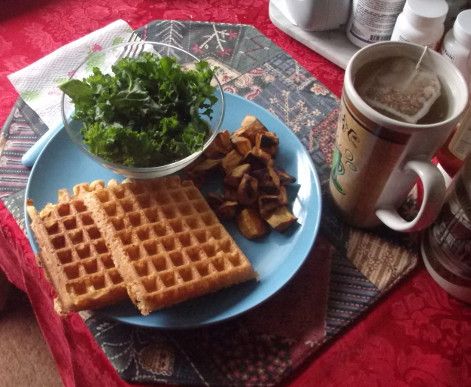 For the waffles, I went with cornbread waffles out of Vegan Brunch.  I figured since both Mom and I like eating cornbread with maple syrup, why not try it in waffle form?  I replaced the oil with applesauce, used whole wheat pastry flour instead of all-purpose and went with the lower-sugar option for more "savory" waffles.  Half a batch yielded seven waffles in my waffle iron, which meant we had some left over for Mom to have for breakfast the next morning.  We had to warm them up a bit before eating them for dinner and so discovered that they crisped up nicely in the toaster.  Of course, they were delicious with a drizzle of maple syrup!
The potatoes came out perfect.  I'm not sure if it was the size I cut them, the amount of oil or what, but they emerged from the oven as little browned pillows of sweetness.  I only used a teaspoon of oil, plus a little bit of cooking spray on the baking sheet, and…there is no word but WOW for how awesome they tasted.  The kale salad was likewise.  A half a teaspoon of oil, a little sea salt and some sesame seeds for garnish and voila, delicious!  I can't get over how much better kale tastes when it's fresh.  I've gotten it at the grocery store in the past when I've been desperate for kale, but compared to the farmer's market or home-grown, it's far too tough and has almost no sweetness at all.  Until the kale in our garden comes in, I'll be getting my kale from the farmer's market for sure!
What's your favorite fresh, local produce to buy this time of year? Mine is definitely greens!  And beets, if I can get them.