This was going to be a recipe post, but turned into a, "Whoops, that didn't work quite the way I wanted!" post instead.  Which isn't to say that my experiment with jerk spiced portabellos and tempeh didn't taste good; I just didn't get the results I was going for.  In my head, I was picturing a tender-but-not-wet combination of tempeh, mushrooms and veggies served alongside rice cooked in vegetable broth, maybe garnished with a little parsley.
What I got was more like jerk-spiced portabello stew.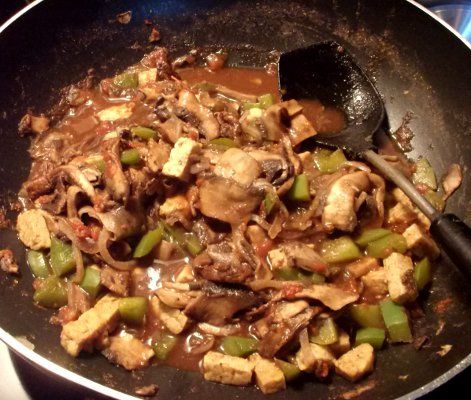 This all started with a recipe from Vegan Planet for jerk-spiced portabello steaks.  I had used the same recipe a while back to make spicy portabello strips for sandwiches and remembered liking it a lot, and I wanted to return to it as the basis for something new.  The original recipe calls for coating portabello caps with oil and a mixture of brown sugar, cumin, allspice, oregano, paprika, cayenne and nutmeg, then cooking them in a skillet until tender.  With the exception of substituting agave nectar for the sugar, I kept the spice mix the same and ran with the idea.
First, I browned some tempeh cubes in a dry skillet and put them aside to add back in later.  Then I sauteed onions and green bell peppers in water, added the mushrooms and cooked everything for a while.  That, alas, is where the trouble started.  I forgot just how much liquid is in a portabello mushroom!  Cooking the veggies covered left all of that juice in the pan, creating the beginnings of a sauce.  I'd already taken a cue from the tofu scramble in Vegan Brunch and mixed up the spices in a little water, which increased the liquid content even more.  So when I added in canned diced tomatoes as the next step, the whole thing just got wetter.  I'm not sure why I didn't drain the tomatoes as I was originally intending.  It wouldn't have fixed the problem, but it couldn't have hurt.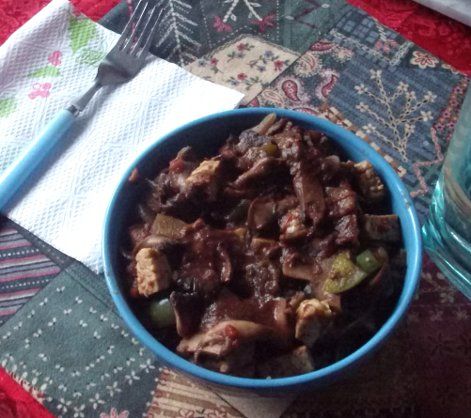 The resulting dish had good flavor, but was much wetter than I'd originally intended.  But since it's officially grilling season, portabellos are easy to get, meaning I can pick more up whenever I want to try this recipe again!  I think I know what I need to tweak to get it right next time:
drain the diced tomatoes
cook the portobellos uncovered to cook off the liquid
use less water in the spice mixture
I'm looking forward to giving this another shot so I can hopefully wind up with a finalized recipe to share!