Happy Memorial Day, everyone!  By now you've probably had whatever tasty summer meal you planned for the day, and I hope it was delicious!  (Or maybe you're still partaking of some tasty vegan desserts?)  Here in the QV household, we had our Memorial Day dinner on Saturday so that we could all be together to enjoy it.
For summery holidays, I like to do traditional cookout-type meals even if we're not grilling.  So of course I turned to The Best Veggie Burgers on the Planet
for a burger recipe that would fill the role.  I've paged through that book from cover to cover multiple times, usually pausing at the weirder burger ideas, but there are several that lend themselves well to an "all-American" meal.  The one I decided on this time falls somewhere in between: the Mushroom Chicken Burger.
Of course, there's no chicken involved; just crumbled tempeh and TVP reconstituted in vegetable broth or, if you can find it, vegan "chicken" broth.  There just so happened to be a box of Not Chick'n in the cabinet, left over from makings stuffing at Thanksgiving.  At first I wasn't sure if I wanted to use it, but the more I thought about it, the more it sounded worth trying.  That, along with the juiciness of the mushrooms and the rather rustic taste that tempeh is known for, wound up making these burgers something special.  I cooked them in a nonstick skillet on the stovetop for about half an hour, starting out at medium heat and turning it down after a while, flipping them whenever it sounded like they were cooking too quickly.  The result was a tender burger with a meaty bite, just enough to be reminiscent of a traditional burger without being freakishly like actual meat.  They didn't taste like chicken, either, but I agree with the book: they have a definite "white meat" thing going on that I haven't experienced with other veggie burgers.  Along with a little vegan mayo, some lettuce and a tomato slice on a toasted English muffin, they were delicious.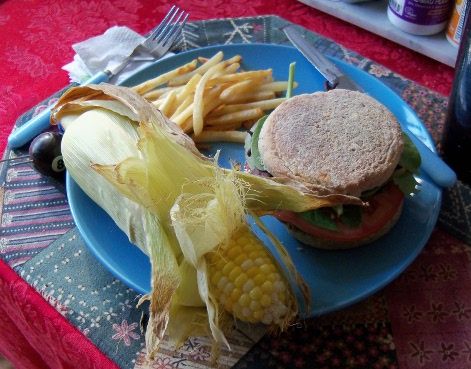 And what's a Memorial Day dinner without corn on the cob?  For as long as I can remember, my family has cooked corn on the cob in a big pot of boiling water.  But this year, I wanted to do something different.  I remembered having seen TV shows where people put corn into the coals of a fire to cook, and of course I knew you could grill it, but I was wondering if it was possible to roast cobbed corn in the oven.  Imagine how silly I felt when I Googled it and discovered just how easy it was!
If you've never cooked corn on the cob this way, DO IT.  Preheat the oven to 350F, stick the whole cob in with the husk still on (trim any excess silk ends first), and roast for about 30 minutes.  That's it!  I found that it came out firmer than with boiling, and it was so sweet that it didn't need anything on it at all.  I'll tell you one thing; I'm never making corn any other way again!
To round it all off, we had some of the french fries that my mom picks up on occasion, homemade at a semi-local farm and sold frozen in 5lb. bags.  They're good–crispy on the outside, soft on the inside–but I'm not sure I'm big on them any more.  Though I enjoyed the flavor, it didn't feel like they completed the meal.  I'd have been more at home with shaved Brussels sprouts or maybe some green beans, or even a big salad.  I don't think my parents would have gone for that, but I might run it past them in the future.  It's probably another facet of how my body has changed since I started moving away from processed foods.  Some of them are still tasty, but not as satisfying as they used to be.
All in all, though, it was a great meal.  What did you cook up over the holiday weekend? I'd love to hear about the dishes you enjoyed with your family and friends!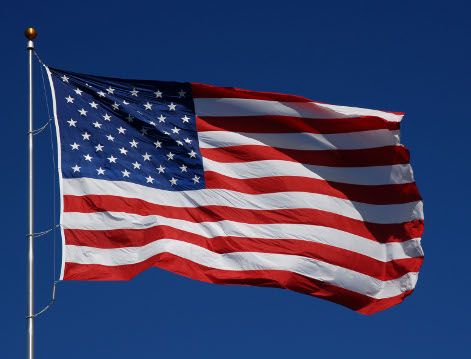 And to all those who served and are still serving, QV salutes you and the sacrifices you make to ensure that America stays free.  To all the families whose loved ones made the ultimate sacrifice, you're in my prayers.  God bless.