I've gone on before about the various virtues of beans and rice.  It's one of those dishes that seems to pop up in just about every cultural cuisine.  In fact, beans and rice is one of the first things I recommend to people looking for a quick, easy meatless meal to add to their menus.  There are so many types of beans and varieties of rice that, along with regional spice blends, it's pretty much impossible to eat too much of it.
That could be my own little obsession talking, but given the proliferation of rice and bean recipes, I don't think it could just be me!  Take a look through any cookbook, vegan and non, and you're sure to find some variation of this versatile dish.  We in the QV household are pretty fond of the "rainbow" black beans and rice combo from Vegan Yum Yum and the spicy jollof red beans and rice from Vegan Fire & Spice, so I tend to make those the most often.  But the last time I was at the co-op, I decided to splurge on two ingredients I see in other recipes from time to time but never have around: sundried tomatoes and pine nuts.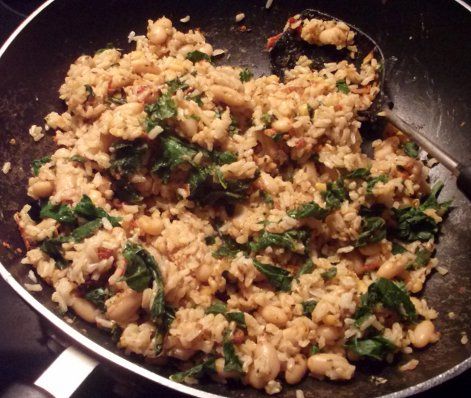 One of the recipes that calls for both of these ingredients is an Italian rice and beans recipe that I've looked at in Vegan Yum Yum several times, but never tried.  Like most of these types of dishes, the ingredients are simple: sundried tomatoes, pine nuts, spinach and Italian herbs in addition to brown rice and white beans.  I used canellini beans instead of Great Northern and got bulk dry sundried tomatoes instead of the oil-packed kind.  Since they weren't moistened, I soaked them in a bowl of water for a little while to make them easier to cut up.  I might have soaked them a little too long, though; they weren't quite as flavorful as I was expecting.
Having the pine nuts mixed in with everything made it difficult to get my first full-on taste of them, but boy did they have great texture.  They made a pleasantly smooth and creamy addition to the dish.  Along with the oregano, basil, marjoram and thyme I wound up choosing for the herb mixture, it was a tasty combination.  I cooked the spices in the skillet a little bit before adding anything else, and instead of spinach, I used kale.  (Isn't everything more awesome with kale?)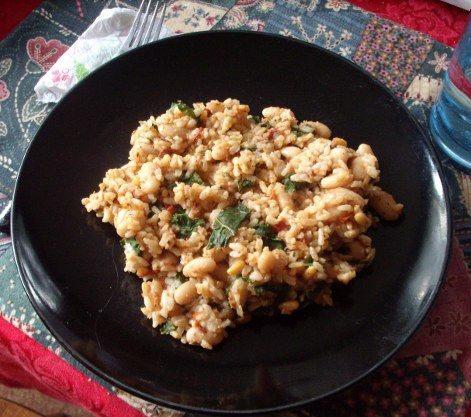 When I first read through the recipe, I wasn't really sure what made it "Italian" aside from the herbs and maybe the sundried tomato/pine nut combination.  But as my mom and I were eating it, I realized something: it's red, white and green, just like the Italian flag!  How's that for a colorful food reference?  We added a little yellow to the mix by sprinkling some Parmela on top, which turned out to be the perfect finishing touch.
Since pine nuts are a little on the expensive side, I won't be able to make this particular kind of rice and beans as often as others.  But it was a delicious change from the usual ones I make, and I'm looking forward to having it again sometime!
What's your favorite rice & bean combination?