You know those days when you really want to get takeout, but know you shouldn't?  I wasn't actually having one of those days when I tried the Seitan & Broccoli With Pantry BBQ Sauce recipe from the Post Punk Kitchen blog, but if I had been, it would have hit the nail on the head.
I should be embarrassed to admit the fact that I only recently realized I can open up my Firefox bookmarks and search them by keyword, a fact which has made dinner planning exponentially easier when my cookbook collection fails to deliver.  When I found the recipe floating around in my bookmarks, I was looking for a way to use up some broccoli that was in the fridge before it went bad.  A quick search for "broccoli," and ta da!  Dinner!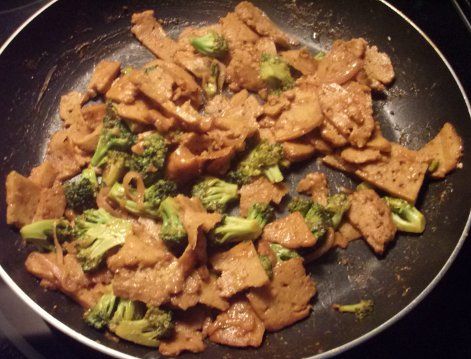 My seitan didn't turn out as dark as the picture on PPK, though I did brown it for quite a while.  I'm still learning which recipes can be made without oil and which need a little to make them come out right, and things with seitan seem to do better with it.  You can get it to crisp up in a good nonstick skillet, but it doesn't turn quite the same color or texture as it does with oil.
That a size…HOLY WOW.  I love, love, love this BBQ sauce.  I'm used to recipes that use a lot of crushed tomatoes or tomato sauce, but this one makes an easy and flavorful sauce with only ten ingredients, most of which are easy to come by.  Vegetable broth, tomato paste, molasses and maple syrup are all pretty standard as BBQ ingredients go, but the thing that really got me was the peanut butter.  Several of the comments on the recipe talk about potentially reducing the amount of peanut butter, but I think that was my favorite ingredient!  I've never made a BBQ sauce with peanut butter in it before, and I found that it added not only good flavor but also a smooth texture that's important in a sauce.  The only thing I would change would be to use a little more liquid smoke, because I love liquid smoke more than a sane person should.  That, and I'd love to get my hands on some Sriracha the next time I go shopping; I didn't have any, so I used Red Devil instead.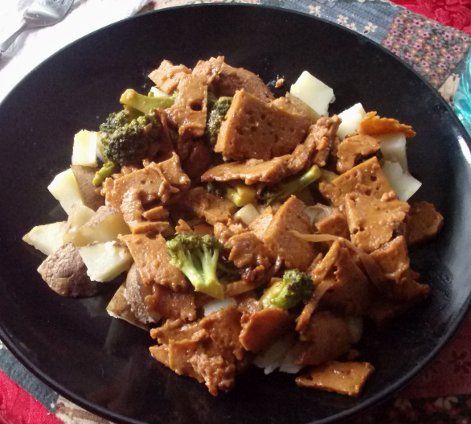 I would have preferred the broccoli to be a bit crisper, so next time I won't cook it quite as long.  Other veggies would work great in this, too.  Bell peppers, onions, portabello mushrooms…anything that tastes good in BBQ sauce.  You'll notice that I served this with potatoes and not rice or another grain because I love the combination of BBQ sauce and potatoes.  I even used to put BBQ sauce on french fries when I was a kid.  (Try it; you'll like it.)
This really did remind me of takeout, especially things like General Tso's that are primarily "meat" with a steamed veggie side.  I'd like to try this with a different mix of vegetables, maybe mix the cooked potatoes right in with the sauce…really, the possibilities are endless here.  I can see this becoming my "go to" homemade BBQ sauce recipe.
What's your favorite "takeout at home" dish?