When you live in upstate NY, one of the things you have to get used to is the fact that warm weather is a long time coming.  You get bursts of heat, then days and days of chill and rain before the sun finally appears again.  But when the higher temperatures do start to stick around, it's hard not to start thinking about summer and, by extension, summer food.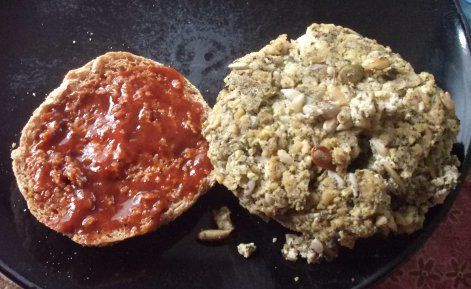 This rustic little burger came out of The Best Veggie Burgers on the Planet.  It's one I've settled on a couple of times before while making my way through the book, but never had all of the ingredients to make.  It's kind of odd as veggie burgers go, something you could truly describe as a "hippie burger."  Due to the recipe's use of parsley, sage, rosemary and thyme as seasonings, the official title is the Scarborough Fair Burger.  (A title which mine can't claim since, lacking rosemary, I wound up using tarragon instead.)
That's not what makes it odd; in fact, I love me a good '60s folk music reference. Rather, it's the combination of tofu and TVP as a base along with sunflower and pumpkin seeds mixed in to add a crunchy texture (and, presumably, more hippie-like health qualities).  Ground flax seed and water act as a binder, at least in theory.  My burger mix came out smooth the way the recipe said it should, but it didn't want to hold together.  Either I should have drained the tofu longer or I should have added extra flax.  I suspect getting more water out of the tofu was the culprit, though, because the burgers also didn't brown up during baking the way the picture in the cookbook showed.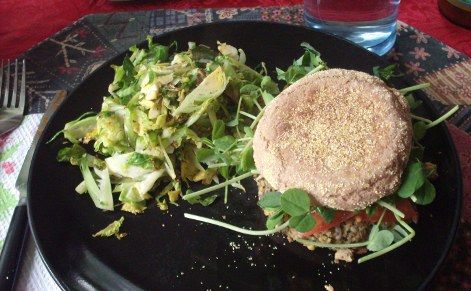 However, despite lacking cohesion and being a bit on the squishy side, these burgers were surprisingly enjoyable.  I wasn't sure what to think at first bite, but by the time I finished I was sold on these suckers.  Mom and I ate them on toasted English muffins with a little barbecue sauce, tomato slices and a recent delicious farmer's market find: pea shoots.  Between the tang of the barbecue sauce, the green of the pea shoots and the crunchiness of the seeds in the burgers, it made for an interesting texture and unique taste.  I found the burgers to be on the spicy side, but not in a bad way.  The high concentration of herbs balanced out any potential blandness from the tofu.
These weren't really a type of burger that fries would go with, so I made the shaved Brussels sprouts from Appetite For Reduction as a side.  That probably upped the hippie factor by about a hundred, but darn if it wasn't a great combination.  Though I'm not sure this burger will become a repeat in the QV household, it was fun to try something a little different from standard veggie burger fare.
What's the most off-beat veggie burger combo you've ever tried?