Every once and a while, my mom will mention a food that she misses.  To which I inevitably reply, "If you ever want something, just ask!"  Most things are so easy to veganize that it doesn't really matter what Mom is having a craving for; I can usually turn up a plant-based equivalent.
Recently, it was bacon and, by extension, BLTs.  I have to admit that I was a little grossed out at first, remembering regular bacon with its bizarre combination of textures and inevitable puddles of grease.  But with all the vegan bacon recipes out there, I knew it wouldn't take long to find something to satisfy Mom's desire for a BLT.
Vegan Brunch
seemed the logical place to start, so I got that out and lo and behold, tempeh bacon!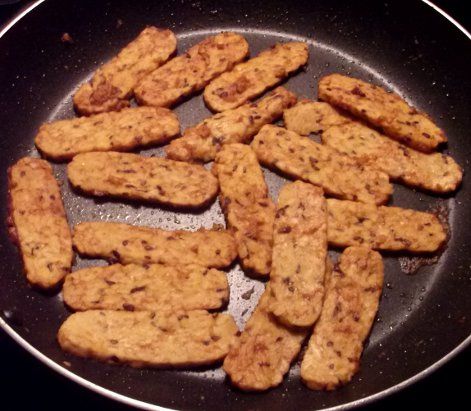 Once I found the recipe, I started to get excited at the prospect of having "bacon" again, too.  I'm not sure why I don't make it more often.  I just don't think of it much unless I find it on a restaurant menu or see a vegan BLT at the co-op deli.
In my continuing quest to cut down on added oils, I left the oil out of the tempeh marinade with no ill effects.  I did, however, use a bit to cook the tempeh so that it would crisp up.  Which it would have done, had I cooked it for long enough.  But I didn't, so it wasn't quite as crispy as I was hoping.  The marinade was very bacon-like, though!  I've found that liquid smoke has an almost scary ability to make vegan dishes taste like meat when the need arises, and it worked well here.
To make sure that the BLT experience would be 100% authentic, I had whipped up the Happy Herbivore Cookbook version of vegan mayo a couple days before.  (Which makes me wonder, why do regular BLTs have super-greasy bacon along with super-fatty mayo?  How did I ever eat that way?) But instead of the fries that I remember eating alongside BLTs as a kid, I went for sweet potato chips straight out of Unprocessed.
It was my first time cooking a veggie in the oven without oil of any kind, and I have to say I was a little bit nervous.  Turns out there was no reason to be.  Aside from a couple of smaller slices that wound up burned, the chips were delicious.  Crispy around the edges with just a little bit of softness near the middle…a perfect texture for sweet potatoes.  I'd love to try the same thing with beets once I can get some at the farmer's market.  (And, as you can see from the picture, there was kale.  Because kale makes everything awesome.)
So I got to play around with vegan bacon, my mom's BLT craving was satisfied and we had a really great meal!