Being half Italian, I'm pretty picky when it comes to things that are meant to mimic cheese.  Very few commercial vegan cheeses taste "right" to me, which is why I tend to either make my own cheese sauce or use nutritional yeast depending on the dish.  That said, I'm still willing to try vegan cheese products provided they're not full of processed oddness.
Enter Parmela.  Billed as a "Parmesan cheese replacer," Parmela is made up of raw almonds, raw cashews, nutritional yeast, fermented soybeans, soy sauce and some lactic acid derived from sugar beets.  The nuts create a crumbly base reminiscent of traditional parm, while the rest come together to create an authentic taste and texture.  In fact, of all the vegan Parmesan products I've tried, I found Parmela to be by far the most authentic in taste, texture and smell.  Aside from the dark color imparted by the nutritional yeast, I'd say it's exactly like its scary dairy counterpart–without the "scary."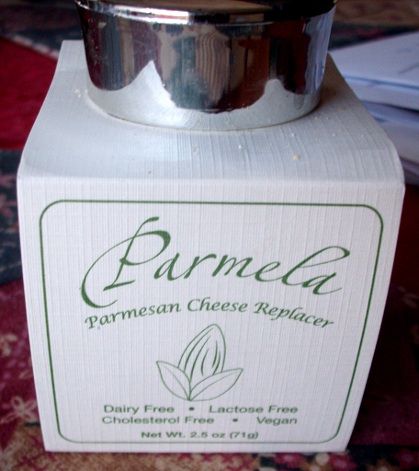 Parmela has a lot going for it, not the least of which is the cute jar.  It comes wrapped in a neat square of heavy paper with a simple logo and attractive script, which can then be removed to reveal a spherical glass shaker that would look right at home on any restaurant table.  Inside, of course, is where the magic happens.  If any of you were Parmesan fans in your pre-vegan days, the smell is probably the first thing that would strike you about Parmela.  Even my 100% Italian mom agreed that it's just as authentic as the taste!  Sharp and "cheesy" with only 13 calories per teaspoon and no cholesterol–I'd say that's pretty amazing.
UPDATE Oct. 2012!  Parmela now comes in an equally cute tub.  The new version has to be stored in the refrigerator, but it's much easier to dispense and tastes just as delicious as the original.  Parmela is gluten-free and now clearly states its non-GMO status right on the package  Spoon it out, sprinkle it on…enjoy!
So what is Parmela good on, besides the traditional pasta with tomato sauce?  I'd say…everything you'd put regular parm on!  So far I've used it on lasanga, baked potatoes, shepherd's pie and this pizza: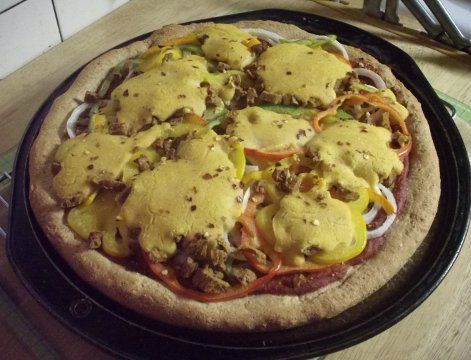 (Incidentally, this is another Heart Healthy Pizza with Italian tomato sauce and an oats/cauliflower/carrot topping sauce!)
The only problem I had with Parmela wasn't with the product itself, but with the jar lid.  It doesn't seem to fit quite tightly enough, so whenever I had to take it off to measure Parmesan into a recipe, I wound up dumping bits of it everywhere.  And since Parmela clumps just like regular parm, the shaker doesn't work terribly well.  I've pretty much been sticking to the open side meant for pouring.  In light of how delicious this stuff is, though, it's not enough to put me off the product.  Parmela gets two thumbs up from this blogger!
Want to jazz up your next recipe with some Parmela?  Enter to win your very own jar!
All you have to do is leave a comment telling me what you'd do with Parmela if you won some.
Sprinkle it on pizza?  Mix it into your next lasagna?
Whatever strikes your fancy, let me know by Friday, May 18th for your chance to win!
Giveaway is now closed.  Good luck to everyone who entered!