Back around Easter, Twitter was abuzz with vegan holiday feasts, including brunches.  A mention of homemade English muffins got me turned on to Vegan Brunch
, a book I'd heard of but–gasp!–had never seen.  When I looked it up, I wondered how the heck I'd missed out.  Isa Chandra Moskowitz cooking up vegan brunch food?  Homemade versions of just about every breakfast, brunch and breakfast-for-dinner food I love?  I had to have it!
I got it out of the library first, but wound up buying my own copy before the lending period was even half over.  English muffins, bagels, waffles, potatoes, a host of muffin recipes…it's a seriously intense brunch experience.  And of course, it contains the most iconic veganized breakfast/brunch food ever: tofu scramble.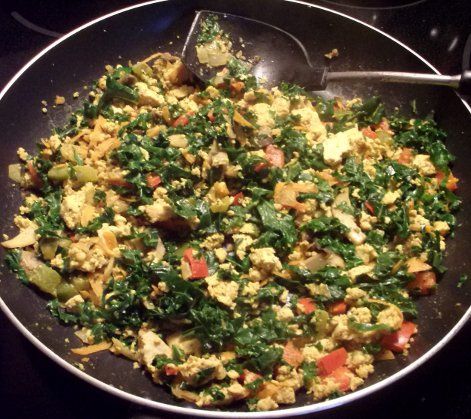 It's a basic recipe that can be used as a template for any kind of custom scramble.  The book has a lot of suggestions, but I added onions, peppers, mushrooms, kale and shredded carrots for a colorful, veggie-ful combination.  The fact that the kale was from a recent farmer's market trip made it that much more awesome, in my opinion!
Aside from some stirring here and there, this scramble pretty much cooks itself.  What I like most about it is the way Isa has you mix the spices with water before adding them to the pan.  Other scrambles I've made had a tendency to turn out a little gritty or taste over-spiced, and I think it's because the tofu wasn't absorbing the spices very well.  In this recipe, the spices mix right in and the flavor spreads to all parts of the scramble so it's extra yummy.  (As a side note, I made another variation of this for breakfast a few days ago and discovered that it tastes just as good without any oil; you just have to cook the tofu at a higher heat to get it to brown.)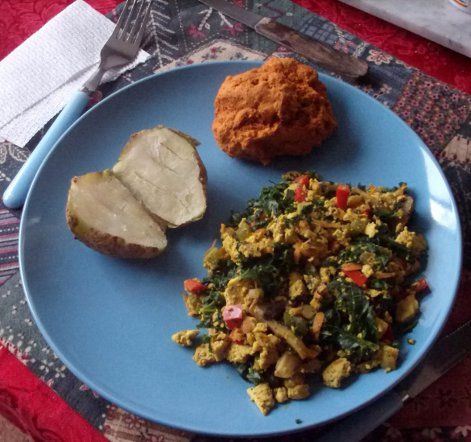 Sitting alongside the colorful scramble are tomato thyme scones.  They were supposed to be tomato rosemary scones, but thyme was the only fresh herb I had on hand.  Fortunately thyme also goes quite well with tomatoes, so the resulting flavor was still very good.  I also substituted whole wheat and whole wheat pastry flour for the all purpose and maple syrup for the sugar.  Neither altered the taste much as far as I could tell, though whole wheat pastry flour does tend to give things a heartier texture.
My only complaint about these scones is that they're oily.  They don't taste like it, but after eating them you can definitely tell they have a good amount of oil.  It seems like fat is what gives scones their flakiness, though, so I haven't yet tried substituting something else.  I usually use applesauce instead of oil or butter in bready recipes, but I'm not sure how well it would turn out.  Has anyone tried this?
As you can see from the forlorn-looking baked potato in the photo, I neglected to make a potato-based side for this meal.  Honestly, I thought the scramble and scones would be enough food, but once they were served the plate looked so empty that I baked a couple of potatoes at the last minute.  There are tons of potato recipes both in Vegan Brunch and other vegan cookbooks that would have worked well here, most notably the Seasoned Spuds from The 30-Minute Vegan.
One thing's for sure: this is my official must-have tofu scramble recipe now!  It has good flavor, it's easy to cook and you can throw in pretty much any veggies you've got in the refrigerator to make it a meal.  What's not to like?