Congratulations Karen, winner of the Heart Healthy Pizza giveaway!  Check your e-mail; there's one waiting!
I'm sure I've mentioned that, since watching Forks Over Knives, I've been making a concerted effort to move away from processed "junky" foods.  One that I used to eat far too much of was breakfast cereal.  I'm not talking about things like fruit-and-nut granola or shredded wheat made solely out of wheat.  Nope, I was a junk food junkie when it came to cereal.  Envirokidz, Cascadian Farms kid's cereals, Kashi Strawberry Fields…I ate it all, in quantity.
Now, while these aren't the worst of the worst when it comes to breakfast stuff (I still grant that distinction to things like Reese Puffs and Cookie Crisp), they're still full of garbage.  They're still pretty much flour, sugar and flavoring with little or no nutritional value.  So out they went, to be replaced by raw fruit bowls, morning salads and unprocessed cereal grains.  There's a whole lot of variety to be had there, but once and a while I crave something different.
Hence zucchini corn cakes.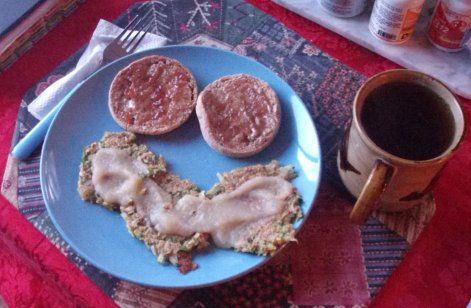 I found the recipe for these in the oft-neglected breakfast section of The 30-Minute Vegan.  I say oft-neglected because, when I was on the cereal train, I rarely took the time to "make" a breakfast.  Cereal is fast and doesn't take a lot of effort…if you think about it, it's pretty much a convenience food.  You open a box, pour some out, splash a little nondairy milk on it, and bang!  Breakfast.  Tasty, but not exactly exciting, am I right?
Actually taking a minute to look through a cookbook and find a new and interesting breakfast option paid off.  The zucchini corn cakes were a nice change of pace and, as you can see, went very well with a toasted whole wheat English muffin and some tea.  In a weird way, they sort of reminded me of latkes or hash browns, only without oil of any kind.
Though these have a little bit of whole grain flour and cornmeal in them, the zucchini is the "main event."  At first I was afraid they weren't going to stick together without more flour, but once they were on the griddle they cooked up really well.  I noticed that, the bigger the cake, the more juicy it was, with a firmer texture than the smaller cakes.  I'm not really sure why that was, but they all tasted delicious in any case, especially garnished with a little applesauce.  The entire breakfast was a nice change from my normal "high rotation" foods and was worth the small amount of extra work!
And, just because this post happens to be about non-dinner items, here's a gratuitous picture of cookies:
I wouldn't recommend eating these for breakfast, but they sure are tasty!  Beats out every packaged variety I've ever had.