Imagine digging into a fully-loaded pizza that isn't greasy, heavy or "bad for you" in any way.  Perfect crust just the way you like it with as many toppings as will fit, sandwiched between a pair of homemade sauces that are free of added oils and salt.
Yes, great-tasting, nutritious pizza can happen.  And it does in Mark Sutton's phenomenal book, Heart Healthy Pizza.  I first spoke to Mark on Twitter while he was working on the book and was so intrigued by the idea that I contacted him again after it was in print.  I'm incredibly grateful that he gave me the opportunity to review it and to share a copy with one lucky QV reader (details at the end of the post)!
Vegetarian for 20 years and vegan for the past 10, Mark Sutton is clearly passionate about pizza.  His mission in creating Heart Healthy Pizza was to show vegetarians that pizza without dairy is not only possible, but also delicious.  After being turned on to the benefits of a low-oil diet via an interview with Dr. Caldwell Esselstyn, Mark took his endeavors a step further and set out to create a variety of doughs and sauces that were low in fat yet full of flavor.  I interviewed Mark about his transition to veganism and the process of creating his book, and he had so much great stuff to share that I gave it its own page.
Heart Healthy Pizza is comprised of four main sections: pizza doughs, bottom sauces, topping sauces and complete pizza recipes.  In the crust section, there are instructions for making dough by hand or in a bread maker.  Mark is very detailed in each step of this process, so you can follow right along even if you've never made pizza from scratch before.
But it's the sauces that really steal the show.  With over a dozen "bottom sauces" and more than 60 "non-cheeses," you can create literally hundreds of unique pizzas.  Bottom sauce recipes range from classic tomato-based sauces to concoctions with the flair of Eastern cuisines.  The topping sauce section is broken up into sauces made from grains, legumes, tofu and veggies, and you'll find no end of interesting combinations there.
Why so many sauces?  With his focus on no added oils, part of Mark's goal with the book was to create pizzas that don't rely on faux cheeses, many of which are high in fat.  If you're still smothering your pizzas with vegan cheese replacements, I challenge you to try some of Mark's ideas instead.  Don't get me wrong; I've always been a fan of Daiya.  But there's something about making a pizza topping out of millet and avocados that changes the whole way you think about pizza in general.
It's clear that Mark wants his readers to be as excited about pizza as he is.  The way the book is set up, you can "build" pretty much any kind of pizza imaginable from the crust on up.  Each recipe can be timed in such a way that the sauces and ingredients are prepped and ready by the time the dough is done rising.  And since many of the sauce recipes make enough for two pizzas, you can use the leftovers for quick pizza assembly on a busy weeknight.  To make it even easier to have healthy pizza whenever you want, Mark offers tips on how to store extra dough for future use.
In fact, every chapter includes tips and tricks to help make your pizza experience the best it can be.  Mark's attention to detail is part of what makes Heart Healthy Pizza such a great book.  By referring to his readers as "heart healthy cooks" and encouraging experimentation, he sets the stage for anyone to start whipping up unique, delicious pizzas with confidence.  And if you find yourself enthralled with one (or all) of the sauces, there are many tips on how to use leftovers on things other than pizza.  (Fans of "the bowl" rejoice; you now have 60 new ways to top your favorite go-to dinner!)
In addition to recipes, Mark gives readers several useful resources and appendices.  Whether you're looking for further reading or need a reminder on how to cook a certain grain, you'll find it in these handy guides.  Mark also gives insights on some reasons for going plant-based and makes a case for eliminating added oils from your diet.  I liked how he doesn't focus on "heart healthy" as a weight loss method or quick fix.  Instead, he encourages overall health while offering information to back up why he thinks a no-oil vegan diet is the way to go.
I can't say enough good about Heart Healthy Pizza.  It's straightforward, inspiring and fun to read.  Mark's writing style is open and encouraging, and his enthusiasm is contagious.  All you have to do is glance through the book to see how many different pizza creations are possible.  Each recipe for dough, bottom sauce and topping sauce can be mixed and matched to create unique pizza combinations.  Mark also offers a section of "Powerful Pizza Possibilities" in which he gives some delicious suggestions of his own.
But just a glance won't give you the full effect of what Mark has created in Heart Healthy Pizza.  Take the time to sit down and read through it all the way and experience everything it has to offer.  I've been making pizza at home for years and still learned a bunch of interesting things that I never would have considered, like chopping onions and mushrooms up small and sprinkling them on before other toppings for a "juicier" texture.  Some other things that caught my eye and must be tried:
Tempeh anchovies.  Pure genius!
Gumbo pizza with okra and gingery sauce
Mashed potato sauce
Indian samosa-style pizza
Curry pizza
The list goes on!  If for some reason you're still not convinced that a healthy pizza can be a delicious pizza, I offer you a run-through of two that I made using recipes straight out of Mark's book.  (You might want to lean back so you don't get drool in the keyboard.)
Some pizza previews: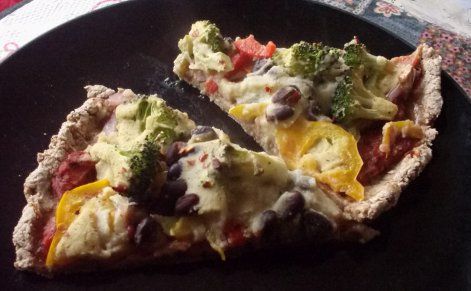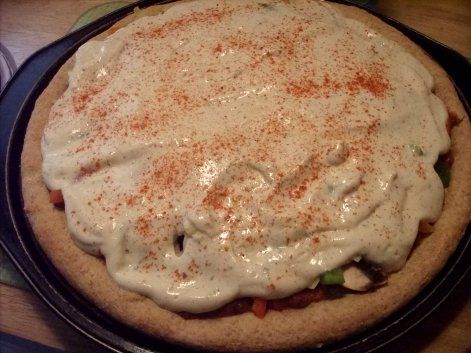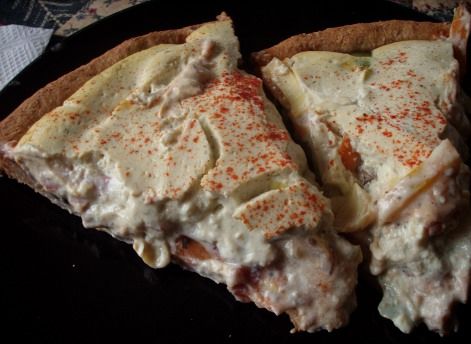 Want your own copy of the book?  Enter to win one!  All you have to do is leave a comment on this post, telling me your favorite pizza combination!  Entries will be accepted until Friday, April 27th.  Giveaway is now closed.  One random winner will be chosen soon using RANDOM.ORG.  Good luck, and happy pizza creating!