Have you entered to win a copy of Unprocessed by Chef AJ yet?  There's still time!  Learn how to remove excess "junk" from your diet and get started with a bunch of tasty unprocessed vegan recipes (including raw desserts)!
* * *
Some recipes have fancy names with words like "braised" in them, or fancy ingredients that you have to schlep around to three different specialty stores to find.  And then there are the recipes with simple, hearty ingredients that you probably already have around the house.  These recipes are easy to make and fun to eat, with no fussiness required.
Take, for example, Tempeh With Potatoes and Cabbage from Robin Robertson's 1,000 Vegan Recipes.  It's a hearty skillet full of, you guessed it, potatoes and cabbage with "meaty" chunks of tempeh.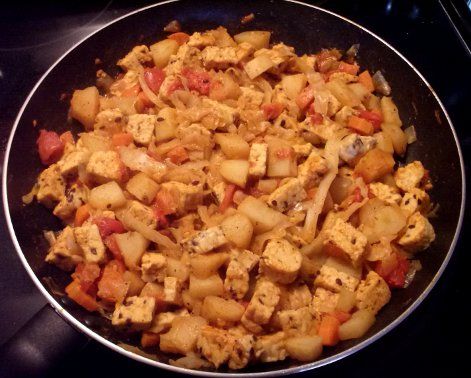 There were some onions, carrots and diced tomatoes to round it out, but potatoes and cabbage took center stage, veggie-wise.  The tempeh was cooked first, set aside, then added back in later after the vegetables had softened a bit.  Vegetable broth made a "sauce" for it, mostly to steam the vegetables  but also to add some flavor.  I covered the pan for the simmering part even though the recipe said not to, and I think it's a good thing I did.  Even with the lid on, it wound up needing extra liquid to cook the potatoes all the way.  I had to keep checking to make sure the pan didn't get too dry.
One of the things that really drove home the simplicity of this recipe for me was the fact that,aside from the ubiquitous salt and pepper, the only seasoning it called for was paprika.  Whenever I cook with paprika, I'm reminded of the scene in Christmas in Connecticut
between Felix and Nora:
Felix (disgusted by Nora's stew): "Goulash!"
Nora (offended): "It's not goulash!  It's good old Irish stew."
Felix scours the cabinets and comes up with a tin of paprika.
Felix (dumping paprika in the stew): "Paprika!  That will fix it.  Now it's goulash."
But paprika is really a fun seasoning.  I enjoy sprinkling it on top of mac and "cheese" for contrast, and when I was a kid I wouldn't eat my mom's deviled eggs until she dusted paprika over the filling.  (Someday I plan to make Potato Angels and do the same thing.) Here it provided a nice red color and subtle flavor  in addition to the broth.  And speaking of goulash, Robin Robertson suggests adding some vegan sour cream at the end of cooking time, but I opted not to do that.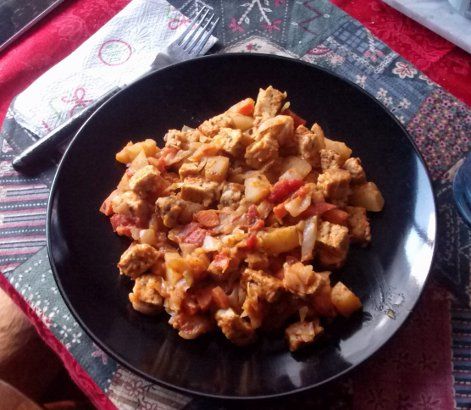 Aside from that, the only other change I made was to cut back a bit on the oil.  Instead of using the full amount, I used half just to cook the tempeh and steam-sauteed the veggies in water.  I've been doing that a lot more lately and am finding I really don't miss the oil.  Things taste so much lighter without it.
Not only was this an easy and delicious dish, it was also a good way to use up some of the cabbage that I still have hanging around.  We also, believe it or not, are still eating potatoes we harvested from the garden last year.  Some of them are getting a little soft and need using up as well.  They're perfect for soups, stews and dishes like this where a slightly spongy texture doesn't matter.  So if you've got yourself some vegan "meat and potatoes" ingredients lying around, this is one worth trying.