After seeing Forks Over Knives, I took a look at my diet to assess how just how much processed food I was eating.  What I realized was surprising and little unsettling: frozen burritos, boxed cereals, prepackaged organic ramen, chips, pretzels and a whole host of other vegan "convenience" foods still had prominent places in my diet.  I knew it was time for a change.  So when Chef AJ contacted me about her book, Unprocessed, I was more than happy to take a look at it.
Unprocessed is largely based on personal experience and heavily stresses the benefits of eliminating all processed foods–especially added sugars, oils and salt–from the diet.  Chef AJ presents her journey to this type of eating in a straightforward, no-nonsense manner that gets right to the point.  It's clear from her emphasis throughout the book that AJ thinks an entirely unprocessed diet is the way to go.  Lots of fruits, veggies, legumes and nuts with no added salt, sugar or oil in anything and pretty much nothing that comes pre-packaged.  For most of us, even long-time vegans, this is a huge change.  AJ suggests starting small and taking steps toward replacing all thing boxed, bagged, jarred and bottled with whole, fresh foods and homemade alternatives.  She gives tips on how to shop, including a few suggestions on saving money when buying fresh produce and other potentially pricey items.  And the second half of the book is full of tasty unprocessed vegan recipes to help you get started.  (Raw truffles, anyone?)
One thing I would have liked to see in the book is more statistics showing the positive effects of eating unprocessed.  I'm a sucker for good data.  It backs up personal experience and is great to share when you're trying to explain the health benefits of any kind of dietary change to someone else.  AJ's story is a compelling one, but I've met enough hardcore processed food addicts to know that even the best personal experience story isn't always going to make an impact.  AJ affectionately calls this type of person a "Yabbut," because they often preface excuses about not eating healthy with the ever-popular, "Yeah, but…"  (We've all heard it, haven't we?)  And she makes some good points when addressing these excuses.  The one that resonated with me the most was her repeated emphasis not only on personal health, but also the health of families and children.  She points out that continuing to eat food that hurts us only serves to feed our addictions to fat, sugar and salt.  And feeding this stuff to our kids sets them up for a host of health problems in the future.
Though Unprocessed contains good some suggestions and interesting information, I did find some of it to be a bit militant.  I don't disagree that eating a largely unprocessed diet is the best thing you can do for your body; in fact, I took away several new ideas from Chef AJ's text.  But I think more accessible language is necessary to get a large cross-section of people interested in eating this way.  The "yabbuts" of the world might be inclined to believe that McDonald's hamburgers aren't good for them, but it's going to take a little more than a good kale salad to convince them to permanently give up the salt shaker.  (More's the pity.)  Of course, it's important to point out that this has nothing to do with the book and everything to do with the prevailing mindset toward food in today's society, something that's unfortunately not looking like it's going to change any time soon.
As far as the recipes are concerned, I don't think you can go wrong with any of them.  They range from simple snacks to fully-loaded entrees, all utilizing unprocessed whole foods.  I've tried three so far: bRAWnies (raw brownies), fruity quinoa and the almond butter dressing from AJ's "Hail to the Kale" salad.  The dressing has already become a staple item in the QV household.  My mom and I both love almond butter to begin with, and this dressing has a light enough taste that you can use it on just about anything.  I first tried it on a big chopped salad with some quinoa and steamed tempeh cubes, adding a little dusting of black pepper over the top (you can see the picture at the beginning of this post).  Since then, I can't count how many chopped salads I've drizzled this stuff on.  I only make a quarter of a recipe at a time because a little goes a long way.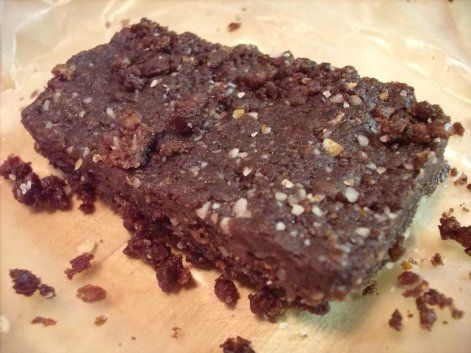 The only description the bRAWnies need is: YUM!  They're really simple: nuts, dates, raw cocoa powder and alcohol-free vanilla extract.  I used half almonds and half walnuts, and made a couple special purchases at the co-op so I'd have all the ingredients.  I'm really glad I did!  Raw cocoa powder is a bit on the expensive side, but worth every penny.  These were easily the most chocolatey dessert I've ever had, and healthy, too!  And there's no fancy prep work involved; just a food processor, a brownie pan and a little time in the freezer.  They reminded me a bit of Raw Revolution bars, only not as greasy.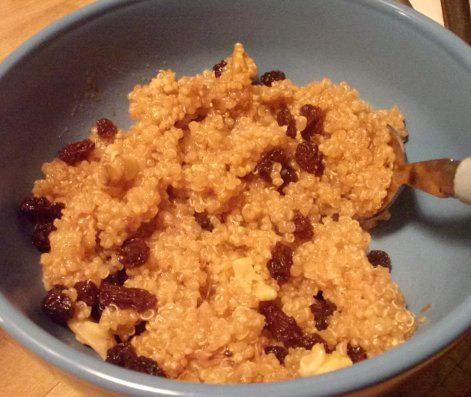 Fruity quinoa is meant to be an alternative to oatmeal in the morning in case, like me, you find yourself in a breakfast rut.  Like a lot of Chef AJ's recipes, it's simple and straightforward, involving only quinoa cooked in orange juice with a little cinnamon and vanilla extract, then topped with raisins or other dried fruit.  I added a few walnuts to mine as well.  Despite a tendency to boil over while it was cooking, I thought this was a good recipe.  It's tangy and warming with a bit of a wet texture suitable for hot cereal, and is definitely different than most common breakfast offerings!
If you want to try these or any of the other tasty recipes for yourself, Chef AJ has offered to give away a copy of Unprocessed to one lucky QV reader!  This one's easy to enter: just leave a comment on this post telling me why you want to try more unprocessed food.
Are you a "junk food vegan?"  Are you stuck in a food rut?  Whatever the case, let me know by Monday, April 16th for your chance to win!  Good luck!
Giveaway is now closed!  Winner to be announced soon.

A side note for eating disorders sufferers and those in recovery: I personally found some of Unprocessed to be triggering.  I've struggled with restriction a lot in the past, and some of those old thought patterns started to pop up as I was reading.  However, I'm not saying this would be the case for everyone with an ED.  Chef AJ herself recovered from a struggle with anorexia and bulimia, and eating this way seems to have been a big part of her recovery.  Everyone's different, but I felt it was important to make mention of this.