I really like Moroccan-spiced dishes.  The combination of sweet, spicy and savory gets me every time.  So when I realized that I finally had everything to make the seven-vegetable couscous recipe from Vegan Fire & Spice, I was super-excited.  I'd had my eye on it for a long time.  With its combination of seven different veggies, five spices, raisins and couscous, how could I resist?
The only thing I noticed that needed changing was the amount of couscous.  The recipe calls for 2 cups of dry couscous for four servings, which is probably fine for some people but was definitely too much for my mom and I.  So I cut that in half and reduced the raisins accordingly to make a serving size a bit closer to what we normally eat!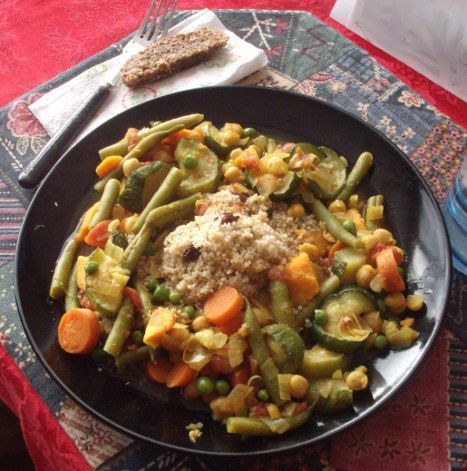 This put the focus of the dish firmly on the veggies, which was just fine with me.  Onions, sweet potatoes, carrots, green beans, zucchini, diced tomatoes and peas in a Moroccan-spiced sauce…yum.  Colorful and delicious!  The chickpeas added to the already diverse texture, and the raisins gave it that hint of sweetness I've come to expect from Moroccan food.  My mom isn't a big fan of raisins in savory dishes, but even she had to admit that they were good in this one!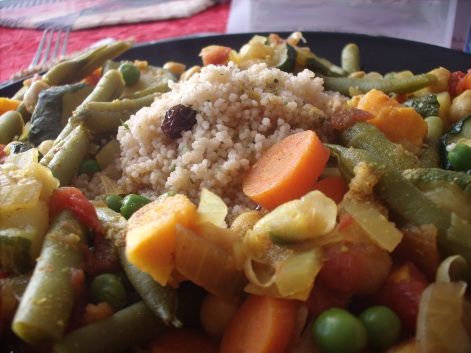 I took the cookbook's advice and piled the couscous in the center of the plate with the veggies around it.  I like a pretty presentation even for everyday meals.  It also helped make it a little different from other Moroccan recipes I've tried, several of which include a chickpea/sweet potato/green bean combo or a couscous/chickpea combo.
Despite being fairly simple in both ingredients and preparation, this was a really great dinner.  I loved the seasoning and all the different types and colors of veggies.  And we don't eat a lot of couscous in the QV household, so it's nice to be able to include it now and then for a change of pace.  I have a lot of fun playing around with ethnic dishes, and I can see myself making this one a lot more in the future!
What's your favorite ethnic spice combination?