I've mentioned before that I like vegan "loaf" recipes.  The first one I ever made was meant to mimic meatloaf, as are most of the others I've encountered since then.  But sometimes you hit on a recipe that isn't trying to be a vegan version of a meat meal, and I've found those types of recipes to be surprisingly good.
Experimental food doesn't always work out, of course.  Take the amaranth I bought at the co-op a while back.  As usual, it was something I tried because it was on sale and I'd never had it before.  Unfortunately, unlike  most foods I've been introduced to this way, I didn't wind up liking it very much.  I found the texture to be gritty and unpleasant straight up, and since then I've been looking for ways to use it that mask that texture and have good flavor.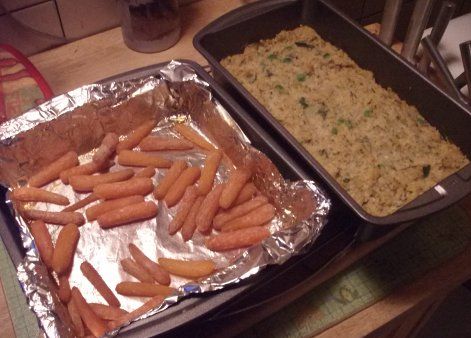 Enter this not-meaty vegan loaf from 1,000 Vegan Recipes, pictured here with some maple baby carrots from Appetite For Reduction.  This loaf has a whole lot going for it.  Millet and amaranth make up the base, and once they're cooked you mix in sauteed onions, zucchini and peas along with some seasonings.  It doesn't look like meatloaf, it doesn't smell like meatloaf and it doesn't taste like meatloaf…but I think it may be my new favorite loaf recipe.  Since the grains pretty much cook themselves, it was easy to make ahead.  All I had to do was pop it in the oven when dinnertime rolled around, giving me more time to focus on sides.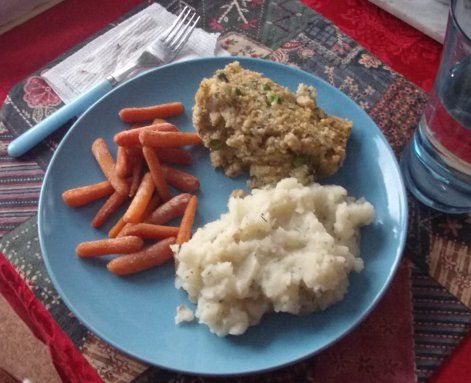 I was going to cook up some of the frozen Swiss chard from our garden, but since the loaf already had a lot of green, I went with the baby carrots instead.  I'd never seen this recipe in AFR before, probably because I never think of carrots as a side dish!  I normally just use them in salads or full recipes.   But the maple idea was great.  All it involved was a simple maple glaze and a little roasting time, which was easy to coordinate with the cooking of the loaf.
I also made some garlic-herb mashed potatoes, inspired by recipes from both the cookbooks I was already using.  One of them suggested boiling garlic cloves along with the potatoes and mashing them right in…definitely worth trying if you like seasoned potatoes!  I mashed them along with a little thyme, marjoram and vegetable broth like I do when I make caulipots, and boy were they tasty.


I'll admit I was a little worried about the texture of the millet amaranth loaf when I first put it in to cook.  One thing I've noticed about amaranth is that it seems to add a gelatinous texture to anything it's cooked in, and this was no exception.  The whole loaf was kind of sticky going into the pan, and I wasn't sure how well it would firm up, or if it would firm up at all.  Happily, it not only firmed up, but also came out of the pan in neat wedges, much neater than other vegan loaves I've made.  My mom and I ate it with ketchup, but gravy would be great, too.  Mushroom gravy, perhaps, or one of the "no beef" gravies from  the Happy Herbivore Cookbook.
Having a vegan loaf that wasn't trying to be meatloaf was a neat change of pace.  I even liked the different color.  This particular loaf reheated very well too, which is a big plus since my mom is always looking for quick lunches and I like having things on hand to pair up with salads for a complete meal.  So if you want something a little different, this is the loaf for you.
What's your favorite off-beat vegan "meat" recipe that doesn't actually mimic meat?