First off, I want to say…wow.  Thanks for all of your responses to and sharing of my posts for National Eating Disorders Awareness Week, especially the post on "fat talk."  I never expected so many people would be impacted, and I'm glad you all took the time to comment and share!
Sometimes going back through recipes you've had on hand for a while makes for the best dinners, or at least the most interesting.  Case in point: last week I found Chocolate Chili hiding in my bookmarks.  Now, I'm not one for Valentine's Day, but I wish I'd discovered this recipe a few weeks ago because it would make a great V-day treat.  The ingredients list makes it look complicated, but it's really not.  The most taxing bit was brewing the coffee–yes, coffee in chili!  That, along with a bunch of traditional chili ingredients, some chipotle peppers and a square of unsweetened chocolate, caught my attention and made me want this chili.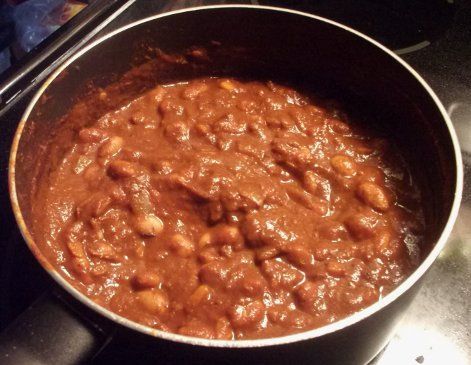 My initial impression was that the recipe could use two things: some added green bell pepper and chopped seitan substituted for some of the beans.  I'm used to having peppers in chili, and I think seitan would add something to the texture that was missing.  That said, this is definitely a different sort of chili!  All together, the ingredients make for a smokey, earthy flavor that deviates from the straight-up spiciness of other chilis I've made.  Not that it wasn't spicy.  In fact, despite removing some of the seeds from the chipotle pepper I used, I still wound up putting a few too many in.  Talk about hot!  I like hot food, but I don't think my mom was quite prepared for the level of spiciness.

I liked the addition of pumpkin seeds as garnish.  I also put a little nutritional yeast on mine, which wasn't bad either.  Though I enjoyed the chili overall, it wasn't exactly what I'd imagined and would need a little tweaking if I made it again.  I'd add the bell pepper and seitan, definitely, and might use bittersweet or semisweet chocolate instead of unsweetened.  There wasn't quite enough sweetness to balance out the bitterness from the coffee and the spice of the chipotle.  But if I could get the balance right, this would be a rather awesome dish.
FNZF25NHTJ6C