The deadline for the Wayfare Foods contest has been extended!  Get your entries in before 8pm on Sunday, February 26th to win some tasty vegan "Pig Outs" bacon bits!
Has anyone else tried Kamut?  I picked up a bit of it at the co-op recently and realized when I got it home that I hadn't the faintest idea how to cook it, let alone what recipes to use it in.  Fortunately, this post from Chef In You answered both questions at once!  Though it's called Kamut and Mixed Greens Pilaf, it's really more like a stir fry that uses Kamut instead of rice.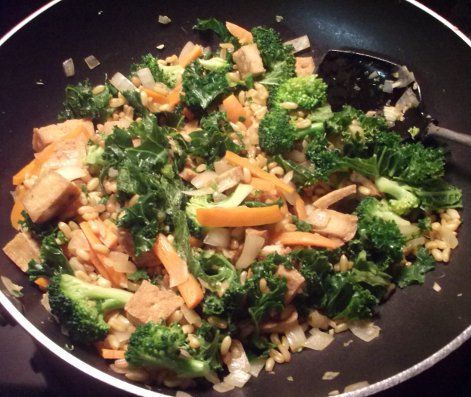 There's really not a while lot to making this dish.  I made sure I had everything ready beforehand by cooking the Kamut in the morning.  I also baked my own tofu using the recipe in Appetite For Reduction as a starting point.  That one calls for several ingredients that wouldn't have tasted right with the stir fry seasonings, so I left those out and stuck with a basic marinade of veggie broth, liquid aminos and garlic.  I've never tried any ready-made varieties of baked tofu, but I bet an Asian-flavored one would work well here.
I went with fresh garlic and ginger for seasoning, along with a little Asian chili paste diluted in water since I didn't have spicy stir fry sauce.  For the greens, I used a mix of kale and mustard greens.  Now that I've had them, I feel like I should have tried mustard greens a long time ago.  They have a sort of fresh, tangy/spicy flavor that I wound up enjoying a lot, both in this dish and raw in salads on subsequent days.  I think chard, spinach or even broccoli rabe would also be good for the "greens" part, depending on how sweet or bitter you like your greens.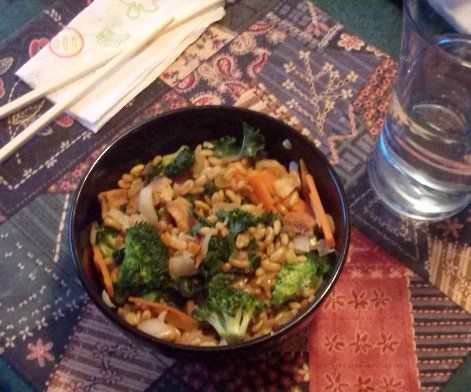 The texture and taste of the Kamut turned out not to be too different from wheat berries, at least to me.  It has a similar crunch and hearty wheat flavor, which made for a nice change from rice.  It'd be good to use as the base for other bowl-type recipes, perhaps something with broccoli rabe and tempeh.  I'd imagine you could also swap it for rice in certain bean and rice dishes to put a new twist on them.  If you haven't tried Kamut yet, I recommend the pilaf/stir fry recipe because it's so simple and delicious!
My brother also got some Kamut around the same time that I did, but he sprouted his and said it was pretty tasty.  I'm not enterprising enough to start sprouting my own grains yet, but it's something I would like to try someday!  Sprouted or not, I can see Kamut making a hearty breakfast dish as well.
Question for the comments: Have you tried Kamut?  What did you do with it?