The fact that I've been vegan for well over two years and never tried anything from WayFare Foods is kind of surprising to me.  I'd heard of their "We Can't Say It's Cheese" spread, and my local co-op carries it, but I never found a reason to get any.  And let me tell you, I was missing out.  Wayfare was kind enough to send me a whole slew of samples to try recently, including some of their vegan cheese products, sour cream, three flavors of their new puddings and some vegan bacon bits.  All of this amounted to a great deal of tasting and testing, including an adapted version of a recipe I used to make all the time when I was vegetarian.  Stay tuned to the end of the post for that, plus a giveaway to go along with it!  (This one is really easy to enter and gets you a tasty prize from Wayfare.  Win-win!)
Wayfare makes several different kinds of We Can't Say It's Cheese spreads and sauces, and I got to try three of them.  The cheddar spread is very thick and looks just a tiny bit stringy, but it has a smooth texture and bold, rich flavor.  I found it to be a little strong straight up, but it was perfect for making chickpea "tuna" melts and paninis!  I was surprised by how well it melted and held sandwiches together.
I had to try the Mexi-Cheddar with something Mexican, of course, so I whipped up a quick bean-and-veggie conglomeration, served it in tortilla bowls, and warmed up this "cheese" to pour over the top.  The flavor was strong and cheddar-like with just the tiniest smokey overtone.  If you're a fan of beans and rice, this stuff would make a great sauce!  I'm betting it would be amazing on nachos, too.
The hickory spread is really something special.  I remember enjoying smoked cheddar and other smoked cheeses before going vegan, and this stuff doesn't disappoint.  It's smooth and thick with a hardcore smokey smell and taste.  It heats well, too, which made it the perfect choice to replace cheese in the recipe I adapted since I needed something "melty."
The bottom line?  You'd never believe that Wayfare's "cheese" sauces and spreads are made with gluten-free, non-GMO organic oats as a base.  And I'm betting no cheese lover, vegan or not, would guess that they only have about 25 calories per tablespoon.  As far as cheese substitutes go, Wayfare's are not only delicious, they're also not too bad from a health perspective.
Wayfare also makes vegan sour cream.  The first thing I thought when I opened the sample was that it smelled a bit like yogurt, but it definitely tastes like sour cream!  It's tangy and sour with a thick, smooth texture.  I used some in an encore performance of Robin Robertson's wheat-meat stroganoff, and it came out deliciously creamy, much more so than when I substituted plain yogurt.  I'd love to try this stuff in baked goods; an old recipe in one of my omni cookbooks for sour cream chocolate cake with peanut butter frosting comes to mind…

Out of everything I tried, though I'd say the pudding stole the show.  If it's not a hit already, I can see it becoming one soon!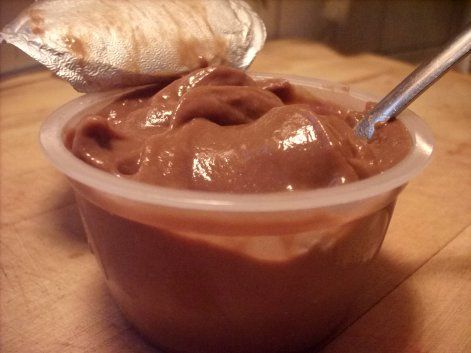 At 110 calories per 4oz. serving, this stuff gives you a generous portion of dessert for a reasonable amount of calories.  The chocolate is pictured above because, being a chocoholic, it was the first kind that I tried.  From the moment I opened the sample, I knew it was going to be amazing.  The enticing chocolate smell and thick, creamy texture promised a delicious pudding experience, which is just what I got.  I was always a fan of instant pudding when I was a kid, and this tastes exactly like what I remember.  It's only slightly different from dairy pudding in texture, but not enough to tell that it's–are you ready for this?–made from a base of water, millet, lima beans, rice, oat bran and oats.  I know I wouldn't have believed it if I hadn't read it with my own eyes!  The sour cream uses a similar base, and somehow it all works together to create the creamy texture usually associated with dairy.
My mom was the official tester for the vanilla pudding.  She loved it, which is a testament to how good this stuff is considering Mom is decidedly a chocolate person.  She liked the strong vanilla flavor and how smooth the texture was.  That left the butterscotch variety, which wasn't my favorite but was still quite delicious.  It reminded me a bit of Butterfinger candy bars and candy corn.  I could see using it as a filling in some kind of baked goods, possibly cupcakes!
I saved my review of the "Pig Outs" bacon bits for last because Wayfare has been kind enough to offer to send some to one lucky QV reader (details below)!  There seems to be a weird hangup with bacon among the omni population.  Even as someone who used to like bacon, I have to admit that I don't understand it.  I mean, bacon-flavored popcorn?  Isn't that overdoing it just a bit?  But the love of bacon persists, and Wayfare has an interesting new take on it with Pig Outs.  They look a bit like grape nuts and are just as crunchy, but have a decidedly baconesque flavor.  My mom and I tried them as a garnish on potato soup and the smokey taste was great!  I've never had "regular" bacon bits, so I can't say whether or not these are similar, but I can see them being good on salads or wherever else you want a bit of bacon flavor.

What got me really excited about these, though, was Texas Tofu.  What's that, you ask?  Texas Tofu was a recipe that turned up in Vegetarian Times not too long after I first went vegetarian.  I remember making it a lot because it was so darn delicious.  With layers of bread, baked beans, crispy coated tofu and cheese, there really wasn't anything to argue with.  I've been meaning to veganize it for a while, and with the hickory spread and Pig Outs from WayFare, I feel like I was able to do it justice and get a flavor that was pretty much exactly like what I remembered.  You can use whatever vegan cheese and bacon-like products you have on hand, but I really recommend trying Wayfare!
Want to win some Pig Outs?  Just leave a comment telling me what you'd do with them!  Sprinkle them on salads?  Put them in soup?  Or perhaps make Texas Tofu for yourself?  Be sure to include your name and a valid e-mail address so I can contact you if you're the winner!
Contest is now closed. Thanks for entering!
Texas Tofu
adapted from Vegetarian Times
serves 4-6
Ingredients
4 thick slices bread, any variety
3 cups vegan baked beans, homemade or storebought (I used Bush's vegetarian variety)
2 tbsp. olive oil, divided
1 onion, diced (about 1 cup)
2 tsp. cumin
2 tsp. chili powder
1/2 tsp. onion powder
2 tbsp. organic cornstarch
1 block extra-firm tofu, drained and cubed
2 tbsp. Wayfare "Pig Out" vegan bacon bits
1 cup Wayfare hickory cheddar spread, warmed
fresh or dried cilantro, for garnish (optional)
Directions
1) Preheat the oven to 450°F.  Arrange the bread in an 8×8 baking dish and set aside.
2) If your baked beans aren't warm or you're using storebought beans, warm them in a saucepan over medium heat until heated through.  Set aside.
3) Heat 1 tbsp. of oil in a large skillet over medium heat.  Add the onion and saute until golden, about 5-8 minutes.
4) While the onions are cooking, combine the cumin, chili powder, onion powder and cornstarch together in a large bowl.  Add the tofu cubes and toss with your hands until everything is evenly coated.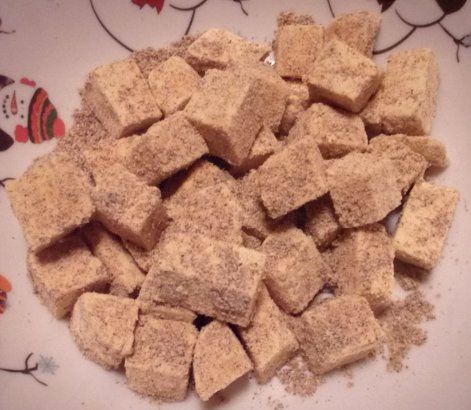 5) When the onions are done, remove them from the skillet and set aside.  Heat the remaining 1 tbsp. of oil in the same skillet over medium heat and add the tofu cubes. (If there's some coating left in the bottom of the bowl, sprinkle it over the top.)  Saute until the coating is crispy and browned, about 5 minutes.
6) Now put everything together!  Spoon the baked beans over the bread in the baking dish and spread them out as evenly as possible.  Sprinkle with the vegan bacon bits, then top with the tofu and sauteed onions.  Pour the warmed hickory cheddar spread over the top and spread it out like you did with the beans.  Bake in the preheated oven for 5 minutes or so, until the whole thing is bubbly and the "cheese" is beginning to brown around the edges.  Serve hot, garnished with a bit of cilantro if desired.