Remember when I bought wheat berries?  (Maybe not; it was a while ago.)  One of the first things I do after buying something "because it's on sale" is to browse for recipes that 1) make good use of it and 2) sound worthwhile.  Thanks to Google and the plethora of awesome food bloggers out there, it's not usually hard to find one.  Or two or three.  I've had this one for Zesty Wheat Berry Black Bean Chili hanging around in my bookmarks and figured it was time to try it last week.  The recipe is pretty similar to other chilis I've tried, but the idea of using wheat berries instead of something like rice struck me as a neat deviation from "the norm."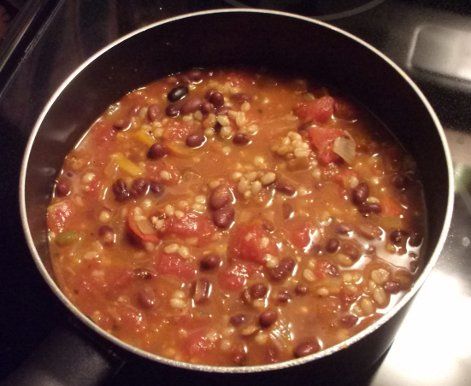 I cooked the wheat berries ahead of time so that I didn't have to worry about them around dinner.  Did you know they take an hour to cook?  I'd forgotten that!  They're worth the time, though.  The flavor and texture are just different enough from rice to make them interesting.  They're firmer, rounder, and have just a little bit of a crunch which offset the softer ingredients in the chili.  They also triple in size, which meant I had some left over to save for another day!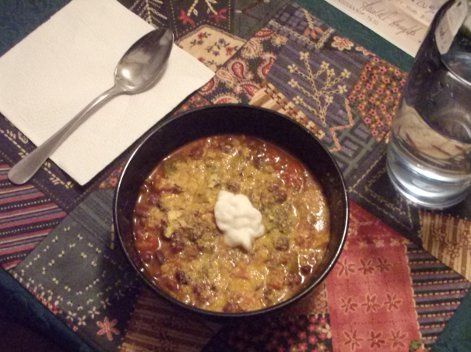 I didn't have an avocado or fresh cilantro for this, but I wish I had.  A lack of anything green in the chili made the part of my brain that likes a meal to have well-balanced colors go kind of crazy.  I also didn't have any canned chipotle peppers, but I've gotten into the habit of keeping some dried ones around.  I wound up soaking one of those and removing some of the seeds so that the chili would get the smoky flavor without being too hot.  I'll dump all of the seeds into some recipes, but since I'd never made this one before I didn't want to risk overwhelming it.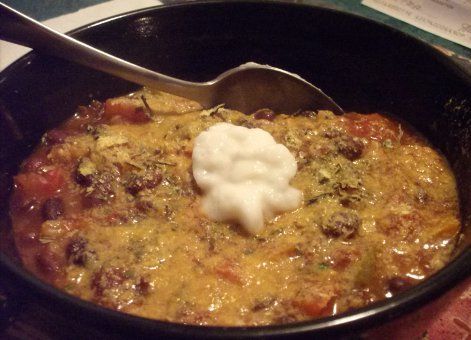 It worked out rather well, with just the right balance of flavor and heat.  I'd call that kitchen magic considering I was just eyeballing the number of chipotle seeds that went in!  Mom and I wound up using nutritional yeast and vegan sour cream as garnish along with some dried cilantro.  Next time I'm getting an avocado, though!  I've been wanting to eat more of them and dishes like this are the perfect excuse.  Avocado would add a nice creamy texture to the mix, plus a splash of green.  Along with the wheat berries, I think it would be very good.
Speaking of the wheat berries, I wasn't sure how much they would expand when cooked, so I tossed 1/2 cup into the pot when making them ahead for the chili.  Turns out they just about triple in size, so I had some left over to make this neat salad for lunch the next day. (I wish I'd gotten a picture, but alas, I did not.)  It has a sweet/spicy/crunchy flavor and texture combination that makes it a lot of fun to eat.  It would also work with brown rice instead of wheat berries, but that would leave out the crunch somewhat.  And of course you could make a larger batch to have on hand throughout the week!
Lunchtime Curried Wheat Berry Salad
serves 1
Ingredients
1/2 cup (approximately) wheat berries, cooked
2 tbsp. raw walnut pieces
2 tbsp. raisins or currants
shredded carrot, as desired
shredded broccoli stalk, optional
curry powder
turmeric
cayenne
soy sauce or liquid aminos
flax oil
minced red onion or scallions, for garnish
Directions
1) In a small bowl, mix together the wheat berries, walnuts, raisins or currants, carrot, and broccoli stalk (if using).  Add curry powder, turmeric, and cayenne as desired, then sprinkle with soy sauce and a small amount of flax oil.  Stir until everything is well mixed and garnish with red onion or scallions.  Refrigerate until ready to eat.