That's a question I find myself asking whenever I come across a recipe like this one for lentil and sweet potato loaf.  Before going vegan, you couldn't get me to touch meatloaf with a ten-foot pole.  I hated the texture, the smell, and the flavor, even when my mom made it with a lot of spices.  But since discovering vegan "meatloaf," I've found myself eager to try new recipes.  There's something more than just the lack of meat that makes these vegan versions appealing.  The combination of grains, legumes, and veggies somehow creates a whole new food experience, and it doesn't seem to matter which combination is used.  So far, I haven't had a loaf I didn't like.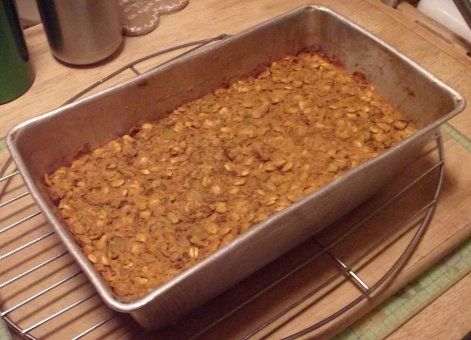 This recipe, which is from the Choosing Raw blog, uses a combination of lentils, oats and grated sweet potato along with a few other veggies and simple seasonings to make a dense, orange-tinted loaf.  I found it to be pretty straightforward, except it doesn't say whether to cook the lentils covered or uncovered.  Common sense dictates to put a lid on the pan, but of course I'm extremely literal and follow everything too closely for my own good.  That led to the lentils taking almost twice as long to cook as the recipe said, which wasn't a big deal overall but made me feel a bit silly.
The other thing I like about loaves is that you can make them ahead of time.  I did that with this one around lunchtime on the day I wanted to have it for dinner.  And don't you know it, it wound up snowing like crazy and putting a damper on my plans to head out to the store to get the necessary ingredients for the side dish I wanted to make.  So when the lentils and veggies were done cooking, I put the loaf in a pan, covered it with aluminum foil, and refrigerated it until the next day.  Why?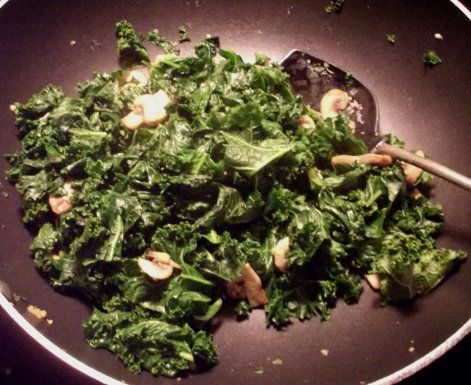 Because kale and mushrooms are worth waiting for!  I usually make potatoes to go along with vegan meatloaf, but since there were already sweet potatoes in this one, I was a bit stumped as to what to serve.  Appetite For Reduction gave me the answer with garlicky mushrooms and kale, which is pretty much exactly what it sounds like.  Sliced mushrooms, a big honkin' bunch of kale, and a whole lot of garlic all together in one pan…this is a great way to eat kale.  I'm going to start recommending it to people who are wary of kale and need a good introductory dish.  (Isn't it so weird to meet people who don't want to try kale?)  It's such a simple combination and so easy to make that I wanted to eat it again after I was done.  And it would work well with any leafy green if you don't have kale on hand.  I'd especially like to try it with collards!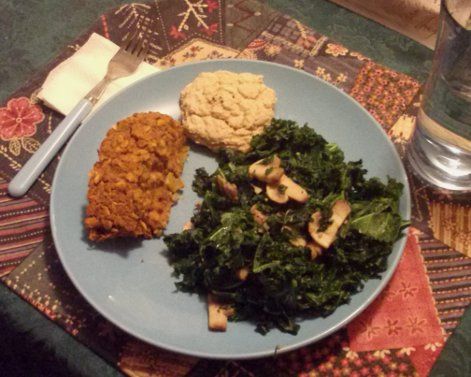 Along with some homemade biscuits, this made a delicious meal.  The loaf got a crunchy crust when it cooked, but the inside stayed soft and warm.  Ketchup was a good complement, but I also tried it with organic barbecue sauce and that was tasty, too!  Unlike regular meatloaf, the texture was nice, though it might have been even better if I cooked the lentils a little longer.  The best feature of all?  It reheats well.  Mom and I had it again a few days later with a bunch of roasted vegetables and steamed greens on the side, then I had another slice recently with roasted veggies and red rice.  I'd imagine it would also make good sandwiches were you to slice it thinner and brown the slices in a pan a bit first.
Despite the snafu with cooking the lentils, I really enjoyed this loaf.  It's the sort of warming, hearty "main attraction" that I like for winter meals, and is simple enough in flavor that you can serve it with pretty much anything.  Though I have to say I'd go with the kale again over anything else!
Question for the comments: What's your favorite non-meat "meatloaf"?