I asked for several different vegan cookbooks this Christmas and my mom, knowing me as well as she does, picked The Vegetarian Meat & Potatoes Cookbook by Robin Robertson as the one to give me.  I've had it out of the library several times in the past and have had great success with several of the recipes.  Plus, it's a Robin Robertson recipe collection, and if you're not sick of me talking up how great her cookbooks are, then you're much more patient than I am!
This is a particularly good book if you have omnis in your family who are wary of vegan food.  It's also great for people transitioning to a plant-based diet who are afraid they'll have to give up rich, satisfying "meaty" food.  And it's good for wintertime.  Basically, it's an amazing book, but what I really want to talk about is its recipe for Home-Style Seitan Stew.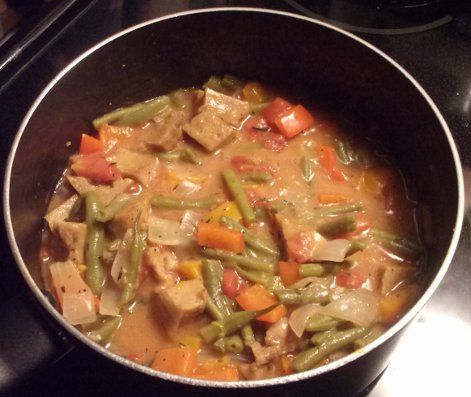 Yep, stew again.  And probably several times more as the cold months drag on in upstate NY.  This particular stew is pretty classic, except it doesn't have any potatoes.  I don't know about you, but when I think of stew I always think of potatoes.  However, there's so much other stuff in the recipe that I didn't miss them at all!  In addition to big chunks of browned seitan, it calls for onions, peppers, garlic, diced tomatoes, and green beans.  There's also some vegetable broth with flour to thicken it and boy, what a broth it was!  By the end of cooking time, it had become a nice, thick sauce with a peppery-spicy flavor.  Simple thyme and oregano provided the rest of the seasoning.  There was also supposed to be white wine and a bay leaf, but white wine disagrees with my mom and I'm allergic to bay leaves, so I just used more broth and thyme.  It worked out just fine!  Plus I think there was an extra dimension of goodness due to the fact that I thawed out and chopped up some of the huge amount of frozen green beans we still have from our garden.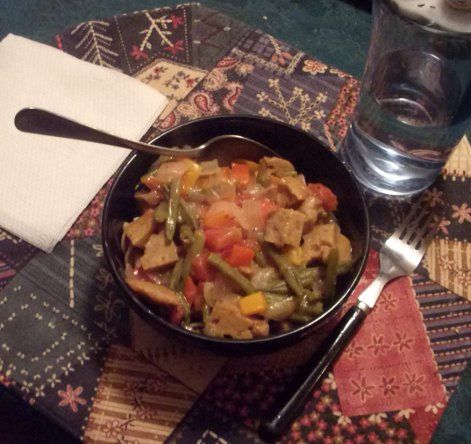 The fun thing about this stew, to me anyway, was the serving suggestion.  I usually serve stew with bread or dumplings, but the book suggested spooning this one over noodles.  I love noodles, so of course I had to try it.  I found some whole wheat pasta spirals on the shelves and cooked up a couple of servings while the stew was simmering.  Talk about yum!  It's not something that would work with all kinds of stew, but the simple, warming flavor of this one mixed well with the "comfort food" feel that noodles have.  I'll be keeping this recipe in mind next time I need to warm up!
Question for the comments: What's your all-time favorite vegan stew, and what do you serve it over/with?