Congratulations to Cathy, winner of the Everyday Happy Herbivore giveaway!  Thanks to everyone for participating!
Not only does this post have a recipe, there's also a fancy bit of travel writing!  Okay, perhaps not fancy, but I did take a trip this weekend over to Northampton, MA.  My mission was to procure some yarn, do some shopping, and eat tons of tasty vegan food, all of which I wound up cramming into two and a half days of amazing "me time."
My first stop was Cafe Evolution in Florence, which I absolutely love.  Every time I'm in Northampton, I eat there at least once.  They're 100% vegan, so I know I can order anything I want off the menu and be fine.  On Friday they had several specials with snow-themed names, including "Snowman Migrations," which I couldn't resist getting.  Tempeh and brown rice with roasted sweet potatoes and Brussels sprouts, plus a side salad?  Yes please!  (I wish I could remember the contents of the purple stuff.  It was sweet and delicious.)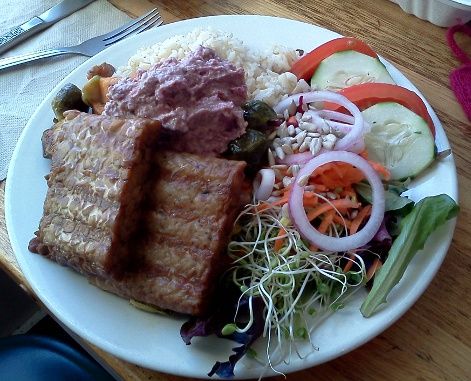 On Saturday I went into Northampton for lunch with a friend and ate at Karma (also 100% vegan).  As much as I wanted to try the raw lasagna, it was too snowy to eat a cold lunch.  So I went with the portabello wrap, which was nice and warm inside and kept leaking tasty cashew cheeze sauce every time I bit into it.  I also treated myself to a green juice of apple, carrot, kale, and ginger–something I only do when I'm on vacation!  They served it in a little goblet which made me feel very elegant drinking it.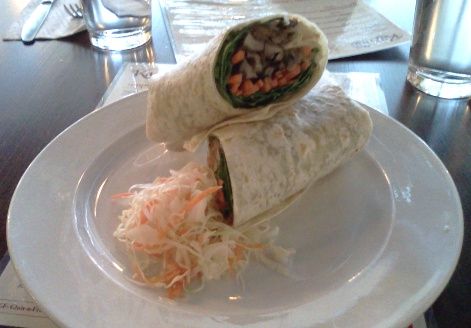 My other little treat to myself was about an hour on both Saturday and Sunday mornings sitting in The Green Bean, reading Jonathan Strange & Mr. Norrell while drinking bottomless coffee and eating the most amazing fruit cup I've ever had.   I wish I'd gotten a picture of it!  It had pineapple, blueberries, strawberries, apple, and kiwi with an orange slice on top.  I've never gotten a fruit cup with kiwi in it before!  It was so good on Saturday that it brought me back in on Sunday–now that's good marketing!
In between stuffing my face, I went all over the Northampton area and stopped at a bunch of great shops.  I also spent an inordinate amount of time in the Whole Foods and Trader Joe's in Hadley.  All of this yielded quite a haul, including So Delicious Greek-style coconut yogurt and Field Roast vegan frankfurters from a neat specialty foods store called Cornucopia, sprouted bread and some of my favorite bread and butter pickles from TJ's, and organic flax milk from Whole Foods.  And, as recommended to me by the owner of X's to O's, I stopped by Heavenly Chocolate for some exquisite–yes, exquisite–vegan truffles in flavors like rum and ginger.  Needless to say, there aren't many of those left.
None of this really has anything to do with the recipe in this post, except possibly to illustrate that, after such a packed vacation, simple dinners seemed the best way to go.  But after eating such great food all weekend, I couldn't find anything in my cookbooks that sounded quite right.  I always get spoiled by the huge selection at places like Whole Foods, where I can just go around, grab a grain here and some marinated tofu or tempeh there, whack a salad next to it and have a great meal.  (Which I did when I wasn't eating at vegan restaurants!)  Using that as inspiration, I wound up with a stir fry that had three components: soba noodles tossed with sesame oil, colorful stir-fried veggies, and crisp tofu coated with liquid aminos and rice vinegar.  Despite having several steps, this recipe comes together without a lot of fuss.
Tofu Stir Fry with Sesame Soba
serves 4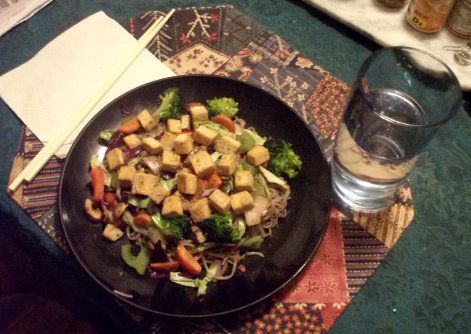 Ingredients
For the noodles:
8 oz. soba noodles
1-2 tsp. sesame oil
For the tofu:
1 tbsp. vegetable oil
1 block sprouted super-firm tofu, drained & diced
liquid aminos or low-sodium soy sauce
rice vinegar
sesame seeds (optional)
For the stir fry:
1 tbsp. vegetable oil
2 garlic cloves, minced or crushed
2 tsp. minced fresh ginger
red pepper flakes (optional)
1 cup onion, cut into large dice
1/2 cup carrots, sliced
1 cup bell peppers, any color, cut into large dice
2 cups broccoli florets
1 1/2 cups mushrooms, cut into chunks
3 cups cabbage, shredded
Directions
1) Cook the soba noodles according to package instructions.  Drain, rinse with cold water, and drain again.  Drizzle with the sesame oil, toss to coat, and set aside.
2) Heat 1 tbsp. of the vegetable oil in a large skillet or saute pan over medium-high heat.  Add the tofu and cook, stirring, until browned, 5-8 minutes.  Add a drizzle of soy sauce and a splash of rice vinegar and stir until the liquid cooks off and the tofu is coated.  Sprinkle with sesame seeds and stir again, if desired.  Remove from heat and set aside.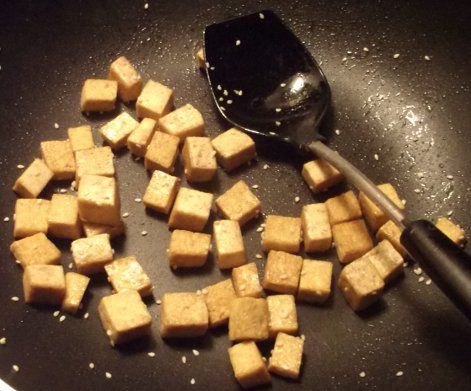 3) In the same skillet, heat the remaining 1 tbsp. of oil.  Add the garlic, ginger, and red pepper flakes (if using) and cook, stirring, until fragrant.  Then add the veggies in the following order, stirring often and cooking each until it begins to soften: onion, carrot, peppers and broccoli, mushrooms, and cabbage.  Everything is done when the veggies are bright and tender, but still crisp.

4) Plate the noodles, add a generous helping of veggies, then top with tofu.  Serve with more sesame seeds and soy sauce, if desired.