Yesterday I blogged about a stew that came together really well.  The stew I'm posting about today…not so much.
You know how every once and a while you come across a recipe that sounds like it will either be very good or very bad?  That's how I felt about the Caribbean stew in Vegan Fire & Spice.  The first thing I did was mentally eliminate both the black and green olives from the ingredients list.  Olives are one of the few foods that I truly hate, and I couldn't imagine having them in the stew along with all the other things that were supposed to go in it.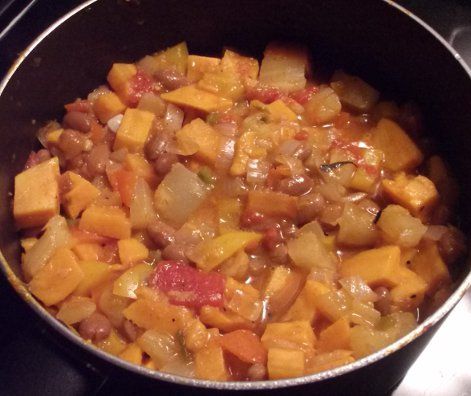 The rest of the components were just as unusual, at least when taken all together.  Onions, peppers, minced hot chiles, diced tomatoes, salsa, sweet potatoes, pinto beans, and that make-or-break sweet ingredient, pineapple.  Now that I come to list them out, it sounds like a recipe for stew collided with a recipe for chili and this was the result.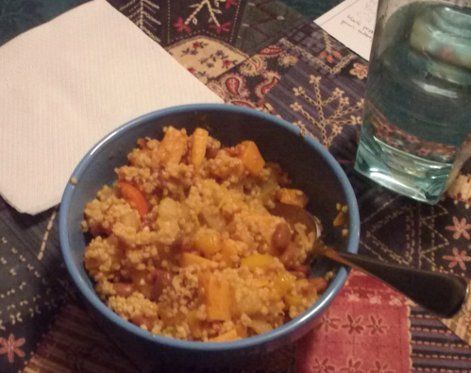 This was the first time I made something of Robin Robertson's that I wound up not liking very much.  I can't say it was a bust, since I did take out a big component of the overall flavor by eliminating the olives, but there was still something that just didn't jive for me.  Some of the color variety was lost, as well, since I didn't have a green pepper to break up all the vibrant colors of the other ingredients.  Even serving it over millet didn't do much.  The texture was right, but the flavor didn't quite fit.
However, it wasn't a total loss.  With a few tweaks, this stew very easily becomes an interesting, spicy chili with sweet overtones.  I know because that's exactly what I did with the leftovers a few nights later.
Here's the breakdown:
— Add more spices!  Cinnamon and cumin feature largely in this dish, and there isn't nearly enough of either in the original recipe.
— Use hot salsa and very hot chiles, or add a splash of hot sauce to bring up the level of spiciness.  Even a chipotle chili would do.
— Serve with more salsa and shredded lettuce in a warm, crunchy tortilla bowl or with tortilla chips.
Or make the original and use the olives.  I'd be interested to know how it comes out, though due to personal taste I'd never eat it that way.  The biggest problem I had with the recipe as a whole was that the flavor seemed unbalanced, so perhaps the saltiness of the olives would fill in the gap.
Don't forget to enter to win your very own copy of the Everyday Happy Herbivore cookbook!
Entries are being accepted until Friday, January 20th!