Was anybody else a huge fan of Calvin & Hobbes when they were younger?  If you were as into it as I was–and still am!–you'll remember the unidentifiable green slop that Calvin's mother served on a regular basis.  Sometimes Calvin's dad would make up a weird story about what it was in order to get Calvin to eat it, sometimes it would sing, and I'm pretty sure it chased Calvin around and tried to eat him at least once.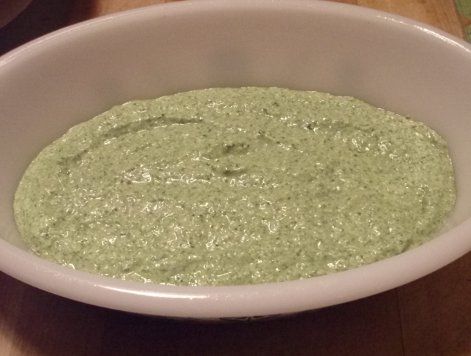 This spinach souffle didn't do any of those things (thank goodness!), but it certainly put me in mind of that green stuff at first.  If it had started singing and reciting Shakespeare plays, of course, it wouldn't have been vegan and I wouldn't have been able to eat it.  Which would really have been a shame, because it was a lot more appetizing than first impressions would lead you to think.
I'd never made a souffle before, nor had my mom.  Since neither of us had a reference point from which to judge this one, I can't really say whether or not it came out the way it was "supposed to."  It was, however, quite tasty and fluffy.  Tofu and spinach made up the majority of it, with a little onion and garlic to round it out and flour to bind it.  Initial reading of the recipe didn't give me a good picture in my head of what it was going to look like when it was ready to bake, hence my surprise at finding Calvin-and-Hobbes-style green goop in the pan when I was done.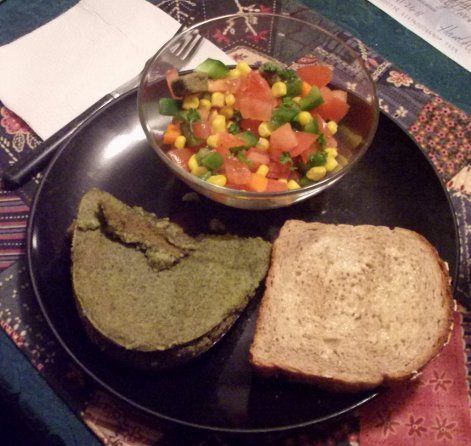 Not only did this taste good, it smelled remarkably like eggs.  I'm not a person who needs veganized dishes to exactly resemble their non-vegan counterparts; actually, that can be a bit disconcerting if the result is too much like an omni dish.  But with this souffle, it was fine.  The outside was firm, the inside was soft and fluffy, and the whole thing had a pleasant flavor with overtones of spinach that my mom and I both enjoyed.  It was remarkably complex for such a simple recipe, and tasted similar to something else I couldn't quite put my finger on.  All it needed was a side salad to make a full meal, so I threw together a quickie chopped tomato dish while the souffle was cooking.
Chopped Tomato Salad With Corn
serves 2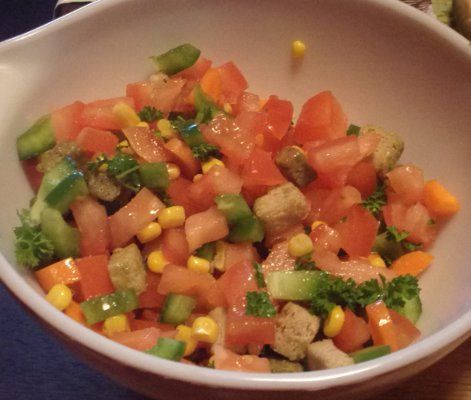 Ingredients
1 1/2 cups chopped tomato
1/2 cup chopped green bell pepper
1/3 cup frozen corn kernels, thawed
1 small carrot, sliced into half-moons
1-2 tbsp. minced fresh parsley
1/4 cup organic vegan croutons, optional
Directions
1) Combine all ingredients except croutons in a medium bowl.  Mix well.  Top with croutons (if using) and refrigerate until ready to serve.