I don't know about you, but I can't believe that Christmas is over already.  It seems like it goes faster every year.  All the prep work, all the anticipation, then boom!  It's over and we're looking at a whole new year.
As I mentioned in my post about Christmas traditions, my family's standard Christmas Eve dinner in years past was decidedly not vegan.  Since Christmas dinner usually isn't, either, I got to be in charge of what we were going to eat on Christmas Eve again this year.  I went a little overboard last year trying to do too much at once, and though it largely worked out okay, this time I tried a different approach.  In fact, the recipe I wound up making popped out at me while I wasn't even thinking about Christmas!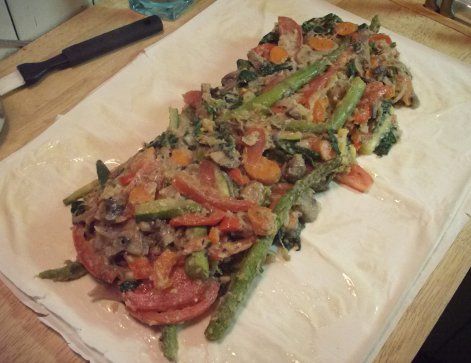 Meet Robin Robertson's roasted vegetable strudel, straight out of 1,000 Vegan Recipes.  In my opinion, you couldn't ask for a better holiday dish.  This sucker has everything: red onion, red bell pepper, mushrooms, asparagus, carrots, spinach, tomatoes, and even white beans, all wrapped in flaky layers of phyllo dough.  I ran across the recipe while looking for something to make for a weeknight dinner sometime in November and knew it had to be our Christmas Eve dinner.
To me, the most surprising ingredient was the beans.  At first, I didn't understand why they were part of the recipe at all, but then I read it again and discovered that they were supposed to be mashed before getting mixed in with the other veggies.  That made sense, as it gave the strudel filling a creaminess it wouldn't have had otherwise.  Everything else except the spinach and tomatoes needed to be roasted ahead of time, then the spinach and tomatoes were mixed in along with the mashed beans.  The only seasoning all of this got aside from a bit of salt and pepper was a teaspoon of dried thyme–and let me tell you, it smelled amazing.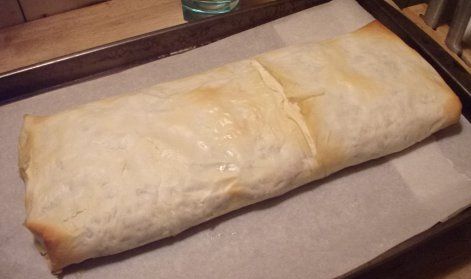 This was my first time using phyllo dough, and I was astonished by how thin it was.  I didn't find it hard to work with, per se, but it is extremely delicate.  It was much easier to roll and unroll sheets as needed than to try and stack them.  It didn't occur to me until I actually saw the sheets why recipes that use phyllo call for so many of them.  This strudel used six with a rather astronomical amount of melted Earth Balance brushed between them and more brushed on top to help the dough brown.  Needless to say, between that and the oil used for roasting, this is not a dish for the fat-phobic.  Being rather terrified of large amounts of oily things myself, it's a wonder I was able to put the whole thing together.  Surprisingly, though, the flavor was very light despite the overall amount of fat.
Even my dad loved this, and he professes to hate carrots and often tries to say he hates beans even though I've been feeding them to him on a regular basis for months now.  My brother eats meat but prefers fresh, natural stuff, so this was a hit with him as well.  And of course, my mom and I loved it.  Warm, roasted veggie goodness with creamy beans inside and flaky browned phyllo dough outside–complete winner.  Since it takes a bit of work and includes so much butter and oil, it's not something I'll be making a lot, but I think the QV household has a new favorite for Christmas Eve!
Question for the comments: What did you eat on Christmas Eve and Christmas?  Do you have anything special planned for New Year's?