Between the rush of Christmas and planning for New Year's, even the most rabid of foodies can start to crave simple, straightforward recipes.  If you found Everyday Happy Herbivore under your tree this year, that's just what you'll get!  Lindsay S. Nixon has delivered another collection of over 175 tasty recipes full of fresh ingredients that make it easy to cook up plant-based meals.  But if you're familiar with HH, you know that "easy" is never boring!  Between her cookbooks and her blog at HappyHerbivore.com, Lindsay has managed to make cuisine from around the world accessible to foodies of all skill levels.
The Happy Herbivore herself gave QV a quick interview about the new book and has kindly let me share one of the recipes with you!  Because you can never have too many recipes.  (Stop looking at my Firefox bookmarks.  I can see you doing it.)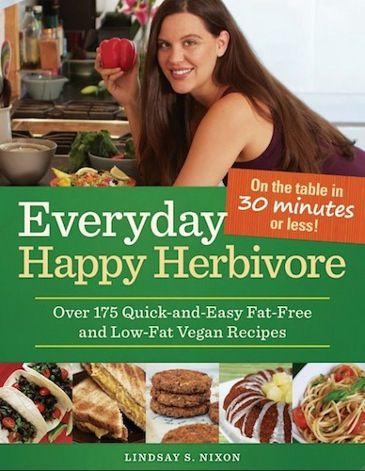 QV: What makes Everyday Happy Herbivore different from your first book?
HH: Both books focus on wholesome "everyday" ingredients, low fat recipes… the same no fuss cooking style, but Everyday has more variety. For example, I have smoothies in Everyday (something you won't find in the first book). I also pulled in a lot of international inspiration. You'll find recipes with Cajun flavors, Thai, African, Indian, Italian and so many more.
My first cookbook has a lot of "comfort foods" and I'm sort of going back to basics with Everyday — focusing on fresh ingredients, celebrating vegetables and legumes rather than remaking an old family favorite like I did with the first book.
QV: What's your favorite part of writing a cookbook?
HH: Seeing the finished book!
QV: There have to be some frustrating moments.  What obstacles did you face in working on the new book and how did you get past them?
HH: There is a huge group of people behind every book — there are editors, and designers, and copy editors and proofers, and sales teams and marketing professionals, and then of course the author. I find it's impossible to avoid personality clashes and struggles in any group when you've worked together for a really long time on the same project. Those are typically the frustrating moments for me and it's always tempting to be a diva and throw a temper tantrum — kick my feet and scream until I get my way, or yell and scream and call the other person names, but obviously neither of these things would accomplish anything positive, and it wouldn't result in the best option or best choice for my book, so I try to hold it together and listen to why they feel the way they do, and then express why I feel the way I do, so we can figure out what's best. I have to remember that it's not about me personally, it's about what's best for the book. I also sometimes get writers block, and that's awful, but it usually blows over in a few days if I take a break and do something else for a while.
QV: What recipes are you most proud of in Everyday Happy Herbivore?
HH: I'm really proud of all my recipes, but the Tortuga Rum Cake — wow, I really need to enter that bad boy into a competition. It's amazing — you could never tell it's whole grain, vegan or fat-free.
QV: What do you hope people will get out of your new book?
HH: More delicious recipes! See once again how easy, affordable, realistic and tasty eating plant-based meals can be.
QV: What advice do you share with people who are transitioning to a plant-based diet?
HH: Just do it. Take it one meal at a time. Attitude is everything. If you have a positive attitude, you'll have a positive experience. Focus on what you can have, don't obsess on the foods you've given up.
You can follow Lindsay's culinary escapades on Facebook, Twitter, and of course, HappyHerbivore.com!
And now, because I love all things sweet potato and all things Indian rather a lot, here's a sneak peak from Everyday Happy Herbivore.
Sweet Potato Dal | serves 2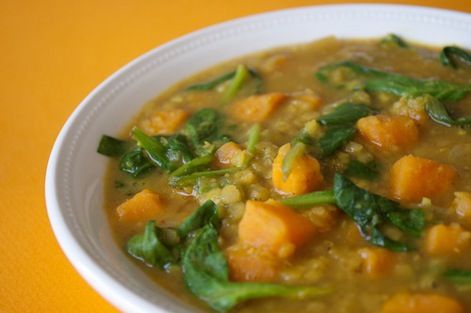 Lindsay says: "This soup is Dal-icious! It's so flavorful you'll want seconds. and thirds!"
1 small sweet potato, skinned
1 small onion, finely chopped
3 garlic cloves, minced
red pepper flakes
1/4 tsp turmeric
1/4 tsp garam masala, plus extra
1 cup vegetable broth, plus extra
1/2 cup red lentils
4 cups spinach, or more
salt
Dice sweet potato into small ½-inch cubes, and set aside. Line a medium pot with a thin layer of water and saute onions and garlic for a minute. Add a pinch or two red pepper flakes and continue to cook until all the water has cooked off. Add turmeric, ¼ tsp garam masala and stir to coat. Add 1 cup broth, uncooked lentils, and bring to a boil. Once boiling reduce to low, cover, and simmer for a few minutes, about 5. Add sweet potatoes, bring to a boil again and reduce to low and simmer, until lentils are fully cooked (they expand and the sauce thickens), about 5 minutes more. Check periodically to see if you need additional broth (I tend to add an extra ½ cup but it can vary). Once lentils are cooked and sweet potatoes are fork tender, taste, adding more garam masala as desired (I like to add another ¼ tsp but some blends are stronger than others). Add spinach, continuing to stir until spinach cooks down and softens. Add salt to taste and serve.
Per Serving: 232 Calories, 0.9g Fat, 42.2g Carbohydrates, 17.7g Fiber, 4.7g Sugar, 15.4g Protein