Congratulations to Noelle–you're the winner of the Manna Organics bread giveaway!  Check your e-mail for instructions on how to claim your prize!  Thanks to everyone who entered!
I make a lot of chili.  In fact, along with copious amounts of refried bean quesadillas, veggie chili was one of my first go-to meals when I started eating vegetarian in high school.  At first, I only made one kind that consisted mostly of vegetables and was a little on the thin side, but it tasted so good that I got into the habit of making double batches and freezing it so I'd have a quick dinner when the rest of the family was eating meat.
Now, I'll try any and all kinds of vegan chili.  I've made chili with red beans, chili with white beans and vegan sausage, chili with multiple kinds of beans, chili with jerk spices, chili with veggies…the list goes on.  But the Chipotle Chili with Sweet Potatoes and Brussels Sprouts in Appetite For Reduction was new to me.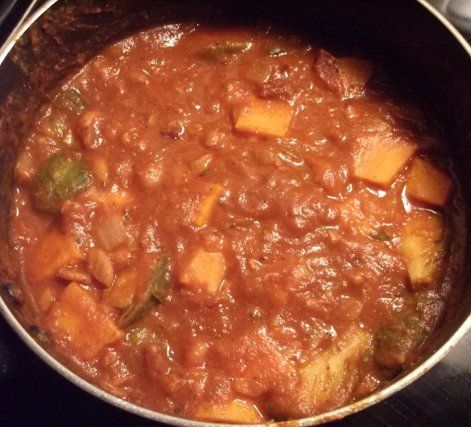 Sweet potatoes in chili?  Sure.  I love chili with a bit of sweetness.  But Brussels sprouts?  My mom was more skeptical of this ingredient than I was, and I suppose I can understand why.  Brussels sprouts, while very delicious, also taste very green, and "green" is far from the first thing I think of when considering chili for dinner.  But I didn't let that deter me–what's veganism (or being a foodie at all, really) without a little adventure in the kitchen?

It was a total success.  Along with the sweet potatoes and Brussels sprouts, there were pinto beans, crushed tomatoes, and a generous amount of spiciness thanks to the included chipotle chile.  Instead of the canned kind in adobo, I soaked a dried chile in hot water until it was soft enough to chop.  Never having tasted the canned variety, I can't say whether they're more or less spicy than this was, but it might be good if they didn't impart quite so much heat.  Overall, though, it was a heck of a chili-eating experience!
So if you've never put Brussels sprouts in chili, I say go for it.  This was another winner from AFR that I'll be making again, since sweet potatoes and Brussels sprouts are two things we almost always have on hand in the QV household!
Question for the comments: What's the strangest thing you've ever put in chili?