I was going to make this another post about how much I love broccoli rabe, but suddenly, bulgur happened.  It all started when I was Googling around for another way to use my new favorite green veggie and came across this recipe for cooking it up with marinated tempeh and red peppers.  Since I already knew I liked tempeh and broccoli rabe together, I thought I'd give it a try and serve it over some kind of grain.

I don't know about you, but when I picture "some kind of grain," the first things that come to mind are rice and quinoa. (I know quinoa isn't technically a grain, but still, it comes to mind, right?)  Somehow, though, neither of them sounded quite right for this recipe.  Plus, we eat a lot of rice and qunioa around the QV household.  They're delicious, but after a while I start to crave a change.
Hence how bulgur happened.  I had a partial jar full from the last time it was on sale at the co-op, so I cooked it up, plated it, and dumped the tempeh mixture over the top.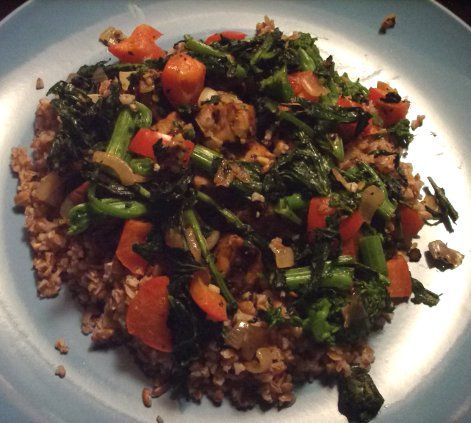 Seemingly random food pairings don't always work out for me, but this one did!  The nuttiness of the bulgur was a perfect complement to the flavors of the tempeh and broccoli rabe.  I found the dish to be a little dry, so Mom and I drizzled some liquid aminos over everything.  We also added an extra dusting of nutritional yeast.  With those adjustments, I'd call this a new personal favorite.  Unfortunately, Mom doesn't seem to be that big of a broccoli rabe fan, so I'll have to save the bitter greens for those times when I'm cooking for myself.  But I'll definitely be making more things with bulgur for both of us in the future!
Question for the comments: What's your favorite way to "mix things up" when it comes to serving new recipes?