The first time I tried amaranth, I didn't like it much.  Not knowing what to expect from it flavor-wise, I don't think I chose a very good seasoning combination, plus the texture struck me as very gritty.  After that experience, I knew I had to try it in a recipe that someone else had devised, to see if it was the amaranth or my own goofs that had led to my bad first impression.
Most cookbooks I have that mention amaranth use it as an ingredient in hot breakfast cereals…not something I eat much of!  Fortunately, a look through 1,000 Vegan Recipes turned up "Savory Amaranth Patties," a recipe for a cutlet-type main dish using amaranth and veggies.  In fact, they're sort of a cross between a veggie burger and a vegan "meat" cutlet.  Cooked amaranth gets mixed with shredded onion, shredded carrot, minced parsley, ground walnuts, and a little vital wheat gluten to make a cohesive patty that can be cooked in a pan on the stovetop.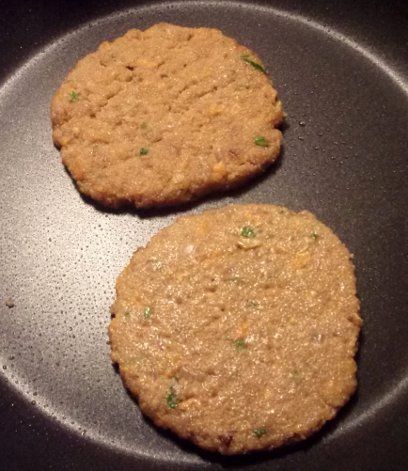 The recipe calls for pan frying, but I never pan fry anything because, frankly, it weirds me out.  Instead, I use nonstick pans with a little olive oil cooking spray, which usually works out pretty well.  The only problem I had with these is that they didn't want to hold together when flipped.  Either I didn't use enough ground walnuts or I made the patties too thin, but either way it didn't affect how well they cooked up.
At first, I was a bit stumped as to what to do for sides.  The patty recipe suggested serving them along with a tahini lemon sauce (also from the cookbook), so I had to think what else would taste good with that kind of flavor.  In the end, I settled on mashed sweet potatoes and boiled collard greens.  My dad grew some collards this year and they've been sitting in the freezer since I put them up, so I thought…why not?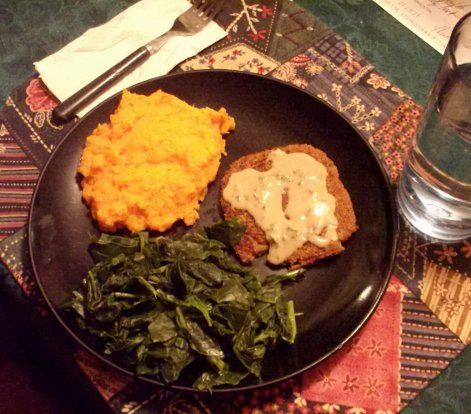 I found the tahini sauce to be a little salty, but that may have been because I added too much water initially and had to cook it down.  It was meant to be a no-cook sauce, so the flavors wound up a bit concentrated.  It worked out okay in the end, though; the taste was very good!  All together, the amaranth patty topped with the sauce reminded me of "chicken" patties–and not in a bad way.  I could easily picture the same combination in a bun, wrap, or pita bread with tomatoes and a dark, leafy green of some kind.  The collards were a good accompaniment, as were the sweet potatoes.  I didn't season either of them initially; Mom put Earth Balance on her collards and I added salt and pepper to my sweet potatoes after everything was served.  A decidedly yummy combination!
I'm still not sure what I think of amaranth overall.  Even in patty form, the texture seemed very gritty.  I enjoyed the mix of flavors that the veggies and tahini sauce brought, but I'm more fond of other grains.  It's nice to experiment, though, and maybe I'll break with convention and give amaranth a shot as a breakfast food one of these days!
Question for the comments: Do you cook amaranth?  What do you do with it?