I'm not the sort of person who's adventurous enough to do things like put apple juice in my chili.  Fortunately, the people who write all my favorite cookbooks are, or I'd never get brave and try combinations that seem weird to me.  Throughout my adventures in vegan cooking, I've found that it pays to try recipes that push me beyond what I consider "normal."  After all, isn't that how we grow in anything?  By putting aside what we consider to be standard procedure, especially in the kitchen, we open ourselves up to new and exciting discoveries that we never would have imagined.
Sounds kind of epic for food, but believe me, it's worked in the kitchen many a time.  I'm still working on it in other areas of my life, but with food at least there are immediate results.  Take the recipe for Sweet & Spicy Chili in Vegan Planet, for example.  Instead of water or vegetable broth, it does indeed use apple juice as the main liquid.  There are also toasted almonds involved as garnish, another thing I never would have considered serving with chili.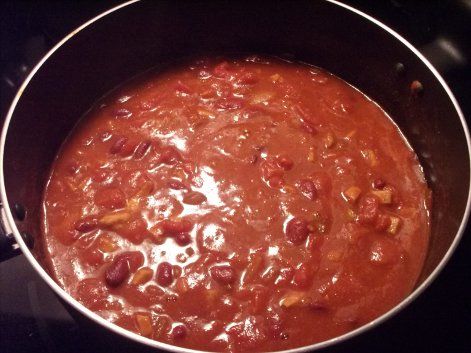 Again, it's a good thing someone else did, because the toasted almonds were an inspired touch.  The chili is both sweet and spicy as the recipe suggests, and something about the crunch of the nuts really rounds it out.  Though I used all the ingredients I thought were "weird," I did make a couple changes to the recipe, the biggest being using chopped seitan instead of veggie burger crumbles.  A lot of recipes in Vegan Planet call for "vegetarian burger crumbles," but I never liked veggie ground beef substitutes.  You could use TVP, but I'm not usually fond of the way that tastes in chili, either.  So seitan it was!  It has a good texture and flavor for chili, especially chili with the sort of unique taste profile this one had.  I also used chopped fresh hot peppers instead of canned chilies, cooking them along with the onions and garlic at the beginning.
All in all, this was a pretty darn good chili.  I also shared it with a few ladies in my Bible study with positive results!  I've decided to get a little more daring with recipes over the next few weeks and try some stuff that I don't usually go for, just to see what it's like.  Who knows, I could wind up with some new favorites!
Question for the comments: What's the "weirdest" dish you've tried since going vegan?