How was everyone's Thanksgiving?  My family still insists on keeping things omni, so I was on my own as far as food was concerned, but there have been a few key changes over the years that made the day a little easier.  One was the discovery of this amazing dressing recipe a few years back; another was the decision that, since we only have the immediate family around for Thanksgiving, an entire turkey isn't necessary.  So even though chicken breast factored into the meal, the gravy was vegan, the corn muffins were vegan, and the potatoes and dressing were vegan.  Not too bad, yeah?  We're getting there!
Despite all the vegan options, I didn't really feel like making a meal out of sides.  Instead, I made myself a bowl of stew with a big ol' dumpling in it, taking the opportunity to try some barley flour that we've had around for a while.  Talk about yum!  It was a nicely warming, personal-sized Thanksgiving meal that kept me away from the hassle of having to come up with something non-meat to go with all the sides.  There was, however, one thing that I couldn't pass up:

We made a vegan pumpkin pie last year, but this year we tried the recipe from The Joy of Vegan Baking.  I'll admit I've never been a big fan of pumpkin pie, and pie in general is not my favorite dessert, but this one?  So.  Good.  Silken tofu and cornstarch take the place of eggs and evaporated milk to make the filling creamy and get the whole pie to set properly.  The texture is very smooth, which I love.  One of the things I remember about non-vegan pumpkin pie was not liking the texture, so this was a welcome change.  And having toasted pecans on top added a little something–a very tasty something!
Though I personally didn't have any holiday overload, I know most people did a lot of cooking over the past few days, in which case this recipe should come as a nice surprise.  Ever since Nacho Mom's sent me their queso to try, I've been wondering what to do with the Voodoo Queso.  It's more dip-like than the other varieties, but since I don't really eat chips and dip, I found myself at a bit of a loss.  We also still had some blue corn taco shells hanging around, calling out to be eaten.  Add to that a sale on Amy's brand vegan chili and ta-da!  Super-easy nachos for a delicious vegan dinner with next to no prep time.  All you have to do is choose  your favorite garnishes and chop them up while the nachos are cooking.
A word of warning: the Voodoo Queso is hot!  I read "chipotle" in the ingredients, but it didn't really register with me how spicy that would make the finished product.  I loved it, but if you're sensitive to hot food, I recommend using Nacho Mom's regular or fire-roasted queso instead.  Either way, the end result will be very, very good.
Lazy Vegan Nachos
serves 2

Ingredients
1 can Amy's chili or 2 cups leftover homemade vegan chili
4 blue corn taco shells
1/2 jar Nacho Mom's Voodoo Queso (about 8 oz.)
lettuce of choice, for plating
optional, for garnish:
chopped onion
chopped bell pepper
sliced avocado
salsa
vegan sour cream or plain yogurt
Directions
1) Preheat the oven to 425°F.  Dump the chili into an 8×8 casserole dish.  Break up the taco shells and spread them over the chili in an even layer.  Spread queso on top and cover the whole thing with aluminum foil.
2) Bake for 5 minutes with the foil on, then uncover and bake 5 minutes more, until the chili is bubbly and the queso is beginning to brown around the edges.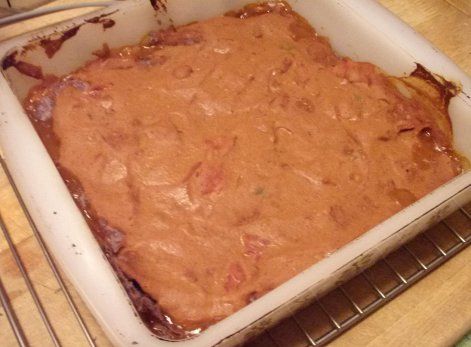 3) Plate a bed of lettuce, top with nacho mixture, and add your garnishes.  Enjoy!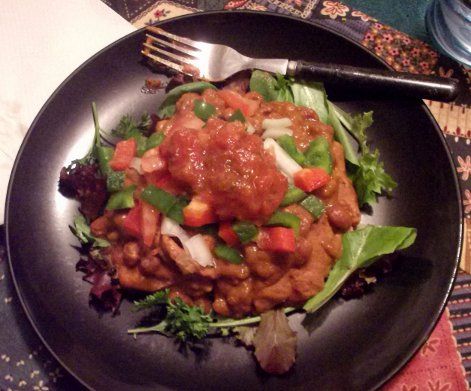 Question for the comments: What was the best dish at your Thanksgiving meal this year?