The blogosphere is abuzz with great vegan Thanksgiving ideas, and what am I doing?
Posting "breakfast for dinner" recipes.
This dinner combo was inspired by the first brunch I ever had at X's to O's Vegan Bakery.  I loved the idea of cheesy hash browns and have been craving them on and off ever since, so I went to the cookbooks for something I could use as a starting point.  Once again, Robin Robertson delivered with a regular hash brown recipe that was easy to adapt.  A few pages before that in 1,000 Vegan Recipes happens to be my favorite tofu scramble, so I noodled with that, too.  The Tofu Scramble Test Kitchen post over at Healthy. Happy. Life. was a great help in getting together the flavors and techniques I wanted for my own custom scramble.
The result?  Tasty, tasty breakfast for dinner, with kale on the side to balance it out, because that's how I roll.  If tempeh bacon is more your thing, then by all means, go for it!
Veggie Tofu Scramble
serves 4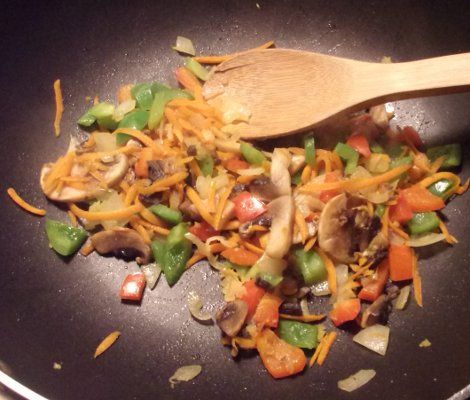 Ingredients
1 tbsp Earth Balance
2 garlic cloves, pressed or minced
3/4 cup minced onion
1 cup chopped bell peppers, any color
1 1/2 cups mushrooms, sliced thin
1 large carrot, shredded
1 block firm tofu, drained and cubed
1/2 tsp. sweet paprika
1/4 tsp. turmeric
3 tbsp. nutritional yeast
1/4 tsp. liquid smoke, optional
liquid aminos & black pepper to taste
Directions
1) In a large skillet, heat the Earth Balance over medium heat until melted.  Add the onion and garlic, cover and cook until softened, 3-5 minutes.
2) Add the bell pepper, mushrooms and carrot and cook uncovered for about 5 minutes more.  Add the paprika, turmeric, liquid smoke (if using), a squirt of liquid aminos, and black pepper to taste.  Add the tofu cubes and nutritional yeast and stir to coat.
3) Mash the tofu cubes with the back of a spoon and continue to cook for 5-7 more minutes until the desired consistency is reached.  Taste and adjust seasonings.  Serve hot.
"Cheesy" Sweet Potato Hash Browns
adapted from 1,000 Vegan Recipes
serves 4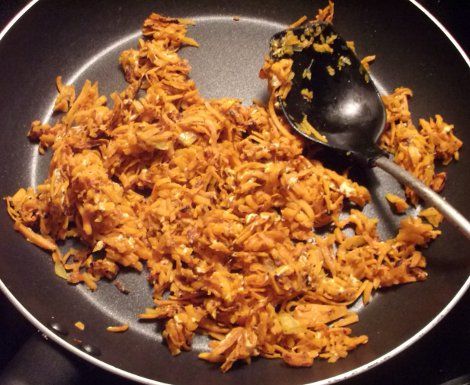 Ingredients
1 tbsp. olive oil
1 2/3 lbs. sweet potatoes, peeled and shredded
1/2 cup shredded onion
salt & pepper to taste
1/4 cup + 2 tbsp. Daiya mozzarella shreds
Directions
1) Heat the oil in a large skillet over medium heat.  Add the shredded sweet potatoes, onions, salt and pepper.  Stir until the potatoes and onion are well coated with oil, then pat down into a flat layer and cook, stirring occasionally, for about 20 minutes.
2) Add the Daiya and stir–quick, before it melts!  Continue cooking and stirring to distribute and melt the cheese for about 5 minutes.  The potatoes should be nicely browned at this point with the melted cheese holding them together in clumps.  Serve hot.