After trying Nacho Mom's Fire Roasted Vegan Queso, I had to break out the other varieties and get cooking.  This stuff is so cheesy and creamy that it's pretty much addictive.  My mom and I tried the Ultimate Queso on vegan omelets a couple nights ago, and we liked it so much that I came up with a way to use the rest of the jar all in one go.  Heck, it's only got 160 calories, right?  Might as well go nuts!
This recipe was inspired in part by the Tex Mex lasagna in 1,000 Vegan Recipes and by the mac & cheese recipe on the Nacho Mom's blog.  With the queso in it, it tastes like it's incredibly bad for you, but it's not.  A generous helping of veggies and a big can of mashed beans give it loads of nutrients, which you could kick up a notch by using whole wheat pasta.  Kale makes a good side, but then I say that about everything…
Cheesy Chili Ziti Bake
serves 6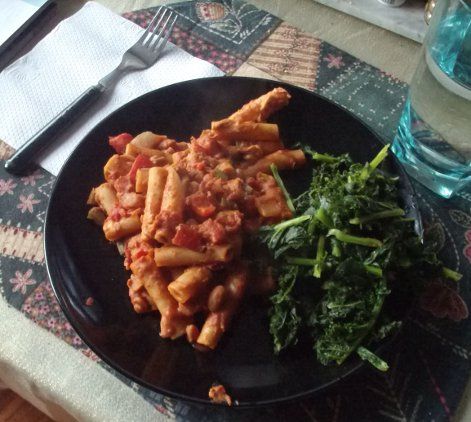 Ingredients
12 oz. ziti
1 tbsp canola oil
2 cloves garlic, pressed or minced
1 small hot chile or jalapeno pepper, minced
1 cup white or yellow onion, chopped
1 cup bell peppers, any color, chopped
1 25-oz can pinto beans, drained & rinsed
2 15.5 oz cans diced tomatoes
1 jar Nacho Mom's Ultimate Vegan Queso
3 tbsp chili powder
2 tsp cumin
pinch oregano
hot sauce to taste
salt & pepper, to taste (or liquid aminos)
Directions
1) In a pot of boiling water, cook the ziti until tender, 10-12 minutes.
2) Preheat the oven to 375°F.  In a medium saucepan, heat oil over medium heat.  Add garlic, hot pepper, onions, and sweet peppers.  Cover and cook until soft, stirring occasionally, 5-7 minutes.
3) Meanwhile, put the beans in a bowl and mash them with a potato masher until only a few whole beans remain.
4) Add the cans of tomatoes to the saucepan.  Stir in all the spices and the hot sauce.  Cover, bring to a boil, then reduce heat to medium.  Add the beans and stir well to incorporate.

5) Dump the noodles and sauce into a 13×9 casserole dish.  Add the entire jar of queso and stir until everything is well combined.  Cover and bake for 30 mins.  Uncover and bake 10 mins more, until hot and bubbly.  Serve hot with a green veggie or salad on the side!