I'm calling this a "cheater" recipe for a couple of reasons.  One, I've been pretty good about staying a day ahead of myself with Vegan MoFo posts, but after a busy weekend and week I find myself in need of one right now.  Two, there wasn't much planning involved in the recipe and most of the ingredients are largely up to personal tastes.  I used a Rice Selects rice blend, but you can go for whatever rice you have on hand.  Brown is always good, but an aromatic rice like basmati would work, too!  And if your curry powder is already on the spicy side, you can omit the cayenne.
I literally threw this together for lunch today and ate it along with a big salad of mixed greens and kale.  In fact, it would probably taste good on a bed of kale, or with lightly steamed kale mixed right in.  Again, it's up to you tastes!  But if you do make it and modify, let me know.  I'll be eating this again (and again, and again, and…)
Curry Spiced Rice Bowl
serves 1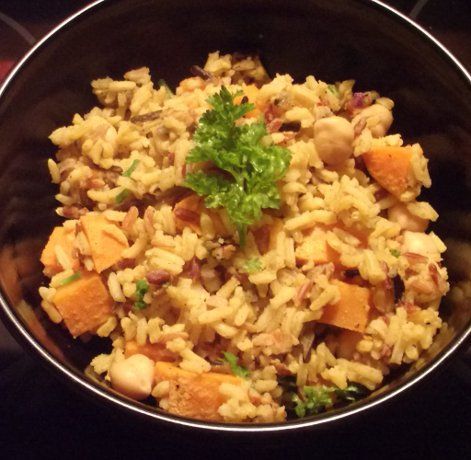 Ingredients

1 serving of rice, uncooked (this varies depending on the kind of rice)
water or vegetable broth
1/4 cup cooked or canned chickpeas
1/4 lb. sweet potato
turmeric
garam masala
curry powder
cayenne
minced fresh parsley
liquid aminos, to taste
1) In a small saucepan, combine the rice with the amount of water suggested for cooking or an equal amount of vegetable broth.  Add your desired amounts of turmeric, garam masala, curry powder, and cayenne.  Cover, bring to a boil, lower the heat and simmer until the liquid is absorbed.
2) While the rice is cooking, bake the sweet potato in the microwave.  Start with 2 minutes and, if necessary, add more time at 1-minute intervals until a knife can easily pass through the thickest part of the potato.  Carefully remove from the microwave, peel, and cut into cubes.
3) When the rice is done, stir in the chickpeas, sweet potato chunks, and parsley.  Drizzle with a little liquid aminos and enjoy!