Those of you who keep up with my Twitter antics may have seen me going on about tater tots a while back.  I'd never actually eaten a tater tot that I can recall, though I used to be quite fond of the potato stars from Mr. Subb, which are sort of the same thing.  What got me going was this recipe for tater tot casserole from Meet the Shannons.  Apparently it's a reworked Betty Crocker recipe, which was news to me!  Then again, when I spent time with the Betty Crocker book in the QV household, I was drooling over the sections with cookies and cakes.  But the idea of a casserole with tater tots on top intrigued me, so I procured some of the suggested organic tater tots and went to it!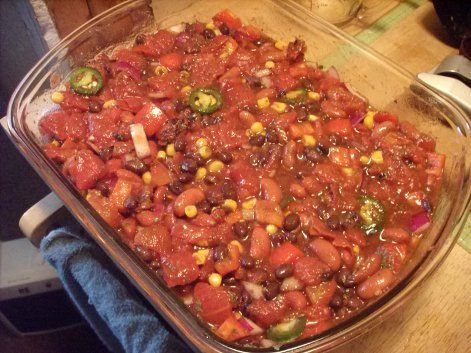 One thing that's kind of weird about this recipe is that you don't cook the filling first.  I guess I'm used to shepherd's pies and vegetable lasagna, where at least part of the overall bake gets some time on the stovetop beforehand.  With this casserole, you just mix all of the "chili" ingredients together before adding vegan cheese and uncooked tater tots on top.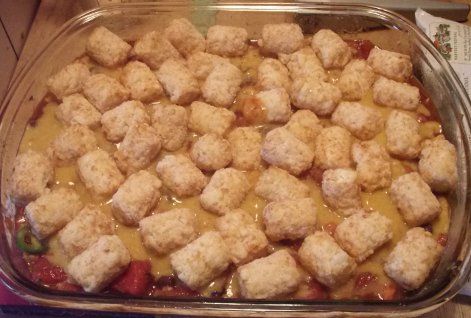 Instead of cheese, I mixed up the packet of Road's End Cheddar Chreese sauce I got from my vegan care package swap partner.  We'd just had something with Daiya the night before and I didn't feel like loading up on faux cheese again.  In retrospect, that wasn't the greatest idea.  Cheese sauce isn't creamy enough; a casserole like this needs the texture that melted "cheese" provides.  It also definitely needs at least 40 minutes in the oven.  I only cooked mine for 30 and the chili ingredients were still on the crunchy side.  I'm all for crunchy vegetables, but I prefer them in stir fries, not casseroles.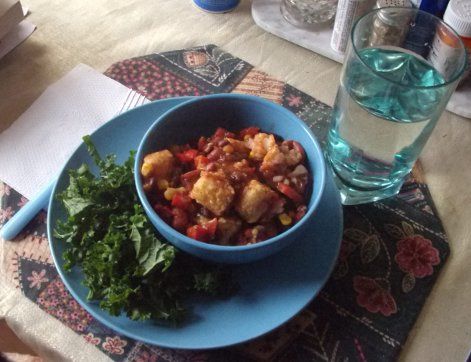 Unfortunately, as excited as I was about making this, it wasn't all that great.  The "al dente" texture of the chili layer was disappointing and distracting, and something was missing from the overall flavor profile.  My initial impression was that it would work better with leftover vegan chili, or even a couple cans of Amy's vegetable chili, instead of the mix in the original recipe.  The tater tots were really the highlight of the whole thing.  They're a little salty, but very tasty and are actually made from–gasp!–potatoes.  I think they'd make a nice change from french fries as a side to veggie burgers.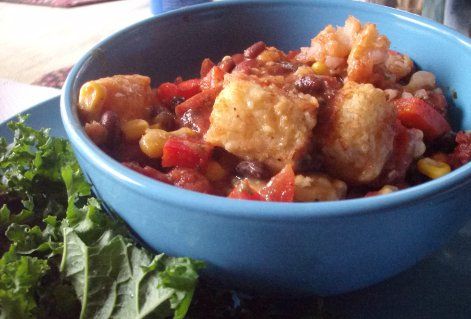 Normally that would be the end of the story, but over the weekend I had reason to reheat some of the leftover casserole and have it for dinner again.  Oddly enough, it turns out that this casserole is actually better as leftovers!  After heating it up in a foil pan in the oven for a bit, I added some extra chili powder and a shake of hot sauce.  Somehow, that made a world of difference.  The chili was more chili-like, and the tater tots wound up half as topping and half mushed up with the chili layer, looking and tasting almost like hash browns.  It was an entirely different experience than when I ate it the first time.
My advice is, if you try this recipe, use the Daiya pepperjack, cook it for a little extra time, and smash a few of the tater tots into the chili right before you eat it.  It might just taste better that way!