…or "Rice is Nice," but I thought that was sort of hokey.
It's no secret that we love rice in the QV household.  We love it to the point of buying massive amounts of it in bulk.  It saves money, and we know we'll eat it.  But every once and a while, I get the craving for something a little different than plain old brown rice.  Don't get me wrong; I adore brown rice.  It's nutty, filling, and goes with just about anything you can pair rice with.  However, there is something special about aromatic rices, wild rice, and rice blends, and that's what I found myself craving one day last week.
Part of the reason for the craving was Rice & Spice, an older Robin Robertson cookbook that I've had out of the library for the better part of the month.  I've gotten it out before because it's a rice lover's dream.  The entire book is full of rice dishes from around the globe, even rice-based desserts!  Its mere presence has been practically begging me to eat rice.  Fortunately, a recent issue of VegNews had a coupon for those neat (but expensive) Rice Selects rice blends, so I took that along with me to the grocery store and got a jar of texmati/brown/red/wild rice.  That cooks in 25 minutes.  As far as food-related happiness goes, I couldn't have been more thrilled.  It's the little things that make veganism exciting, right?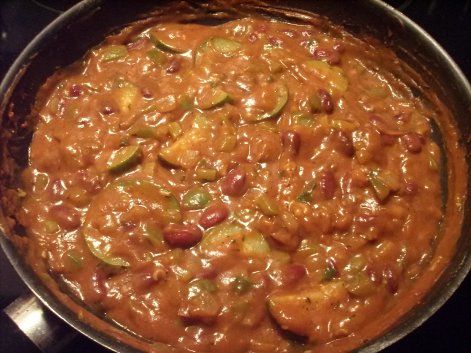 My note for this post simply said "cajun rice thing," but the real name of the recipe is Vegetable Etouffée.  Apparently "etouffée" means "smothered" and is one of those amorphous Cajun stews that gets served over rice.  I've made a few of Robin Robertson's other Cajun-themed recipes and have never been disappointed, so this seemed like a logical choice for re-introducing myself to this book.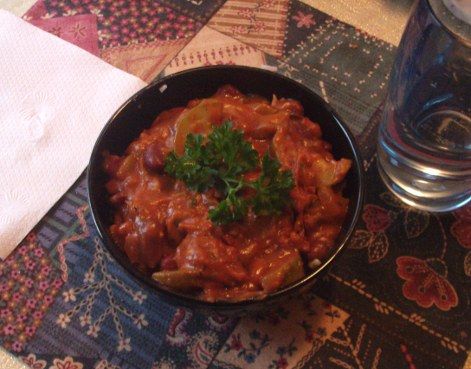 And what a good choice it was!  This dish is chock full of veggies, including onions, celery, green bell pepper, and zucchini.  Red kidney beans round it out with a bit of protein and texture.  The most fun thing, though, was the reworked roux.  At the beginning of the recipe, you throw some flour in the skillet and toast it until it turns brown, then set it aside until later.  That's all there is to it.  No butter, no oil, no nothing; just flour.  Later on it gets put back into the pan with the cooked veggies and thickens everything up with the help of some filé powder.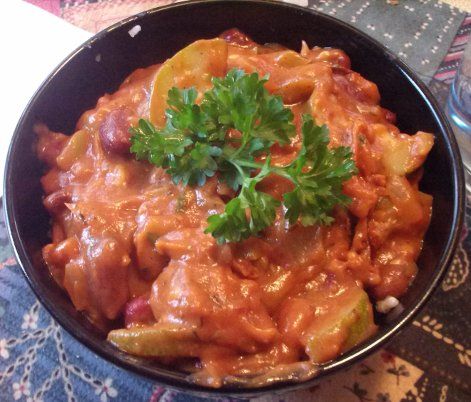 The bit of extra green you see is, believe it or not, fresh parsley from our garden.  In the absence of any seriously cold nights, it's still growing like crazy out there.  Pretty impressive, considering it started out as two small plants that wilted as soon as they were in the ground.  But my brother worked his gardening magic on them and we've been enjoying fresh parsley from those two plants ever since.  I'm going to have to take a chance on one of them and dig it up to have as  a houseplant over the winter.  Given my track record with houseplants, I don't hold out much hope, but it's worth a shot!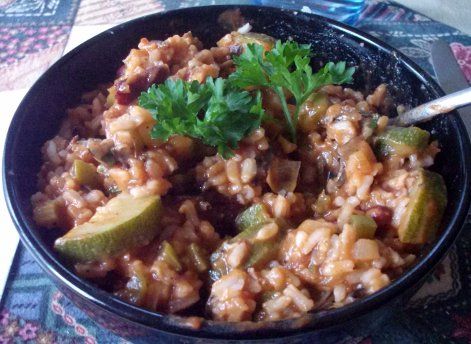 And by the way…the etouffée is awesome.  It turned out to be one of those meals that was so wonderfully tasty that, if I could, I would have rewound time to eat it again.  The rice blend had a rich, nutty flavor and an aroma to match, and the stew itself was spicy and delicious.  I love beans and rice to begin with; the vegetable and seasoning combination made it that much better.  I'm hoping to be able to find my own copy of Rice & Spice at some point so I can explore the other 99 recipes…