Aside from the very occasional trip out for brunch, I don't eat things like waffles or pancakes.  It's not that I don't like them; I just don't like them for breakfast, and I rarely crave them when I want breakfast for dinner.  I do, however, enjoy making them for other people, hence the occasional "waffle morning" on weekends in the QV household.
One such morning occurred when my mom had a day off recently.  We've been trying to come up with ways to use the apples left over from making the first pie of the season and I thought, "Hey, wouldn't maple syrup and apples go great with waffles?"  Thus this recipe was born.  You could use this topping on just about anything…waffles, pancakes, oatmeal, even ice cream!  The amounts of syrup and cinnamon are entirely up to you.  Basically you want to shoot for a good ratio of syrup to apple so your waffles (or whatever) don't wind up dry or soggy.
Maple Apple Waffle Topping
serves 1-2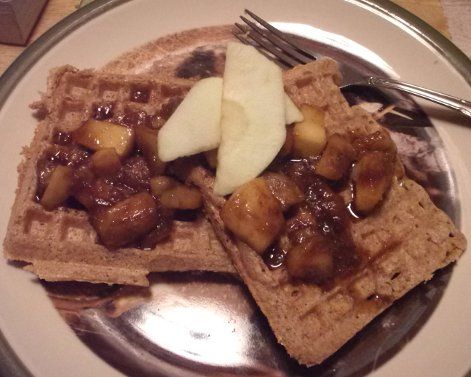 Ingredients
1 small apple, cored (I like Crispins, but anything with a little tartness will do!)
maple syrup
cinnamon, to taste
Directions
1) Chop all of the apple wedges except one.  Slice the last wedge and set aside for garnish. (Wrap it in a damp paper towel to prevent browning.)
2) Place the apple chunks in a small saucepan with a little water.  Cover and heat over high heat until boiling.  Boil for a couple of minutes until the apples start to soften.
3) Uncover, add the cinnamon, and lower the heat.  Simmer for a minute or two until the cinnamon is fragrant.
4) Add maple syrup, turn the heat back up, and bring to a boil.  Stir for a few seconds before lowering the heat again and simmer until everything is warm and the liquid has thickened a bit.  Spoon over whatever you've got that needs maple apple goodness on top.
And what's fall without a little pumpkin flavor?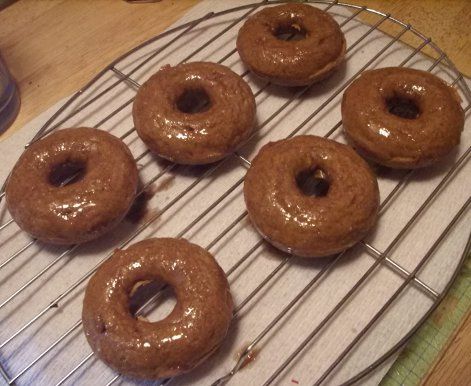 The genius behind these delicious little donuts is Mighty Vegan, and I am eternally grateful for the recipe.  I've been craving donuts lately, and these fit the bill!  Moist and pumpkin-y with a hint of cinnamon warmth…if that's not fall, I don't know what is!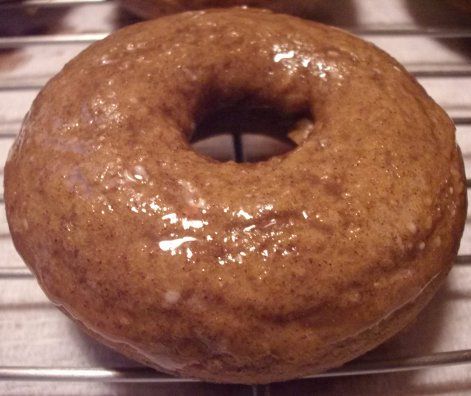 In case you were wondering, yes they are amazing with coffee.  Preferably coffee with a little cinnamon in it.