I have a special obsession with roasted things.  I'll pay extra for organic fire-roasted diced tomatoes in a can when I want dinner to have that special "roasted" flavor.  One of the first vegan pizzas I made had roasted veggies and vegan sausage for toppings.  And I love, love, love roasted peppers.
That probably explains why, when I realized that the poblano pepper I picked up at the farmer's market a while back was in danger of going bad if I didn't do something with it, I decided to roast it.  And then decided to put it in chili.  Thus this recipe was born.  (As a side note, why does it take me so long to try tasty foods I've seen in other recipes but never used?  Seriously, why?)
If you've never roasted peppers at home before, no worries!  It's easy, and I've included the instructions at the end of the chili recipe.  Serve the finished dish over rice or quinoa, in tortilla bowls, or slopped in a wrap for a messy, but tasty, burrito.  To make it even more roasted-tasting, go ahead and use some fire-roasted diced tomatoes!
Roasted Poblano Chili
serves 4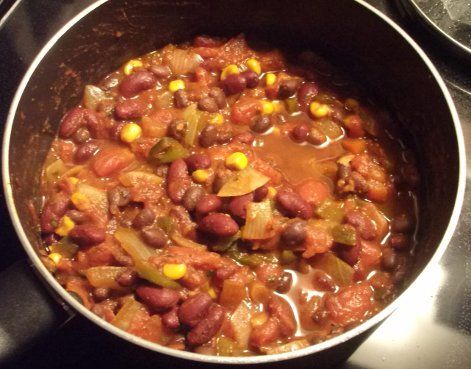 Ingredients
1 tbsp. olive oil
3 garlic cloves, minced or crushed
1 large onion, chopped (about 1 1/2 cups)
1 poblano pepper, roasted and chopped (see below for roasting instructions)
1 cup chopped bell pepper, any color
1 28oz. can diced tomatoes
3 tbsp. chili powder
1/2 tbsp cumin
1 tsp cilantro
1 15oz. can dark red kidney beans
1 15oz. can black beans
1 cup frozen corn, optional
salt & pepper to taste
Optional garnishes:
salsa
vegan "sour cream" or plain yogurt
vegan cheese
nutritional yeast
avocado slices
fresh cilantro
Directions
1) In a large saucepan or pot, heat oil over medium heat.  Add the onion and bell pepper, cover and cook until soft, about 5 minutes.  Add the poblano and garlic; cook 1 minute more.
2) Add the tomatoes and their juices, then stir in the chili powder, cumin, cilantro, and salt and pepper to taste.  Bring to a boil, lower the heat, and stir in the beans.  Simmer, covered, 10-15 minutes to blend the flavors.
3) Add the corn, if using, and heat through.  Taste and adjust seasonings if necessary.  Serve with the garnishes of your choice.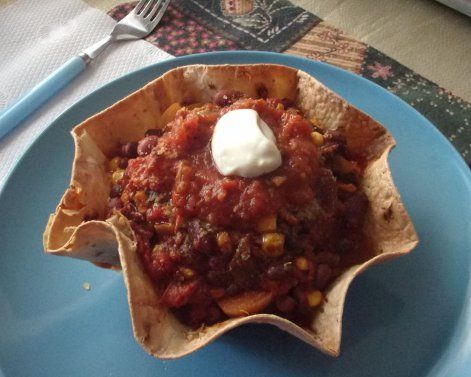 To roast the pepper:
Preheat the oven broiler to high.  Cut the pepper in half lengthwise; remove the stem and seeds.  Place cut side down on a cookie sheet, spray with a little olive oil cooking spray, and place on the highest oven rack, as close to the broiler as possible.  Let cook until the skin is blackened, checking frequently.  Remove from the oven and place in a covered bowl for 15-20 minutes.  Once cool enough to handle, peel off the blackened skin.  Viola!  Roasted pepper!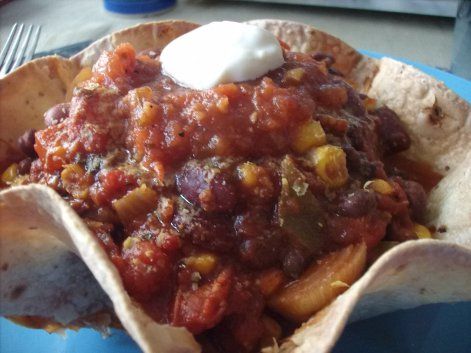 Question for the comments: What's your favorite veggie to roast?