It was another classic QV grocery shopping scenario: an unfamiliar vegetable on sale.  Should I buy it? Don't mind if I do!  This time it was broccoli rabe (a.k.a. rapini), which I'd seen around before but never tried.  I must admit, it intrigued me.  What is this strange new green?  What does it taste like?  And how the heck do you pronounce it?
I knew I could rely on Veganomicon to have a good recipe for trying it out.  And right in the picture section, there it was!  Spicy Tempeh and Broccoli Rabe with Rotelle.  It sounds fancy and complicated, but it's actually one of those recipes with a few simple steps that all come together quite nicely in the end.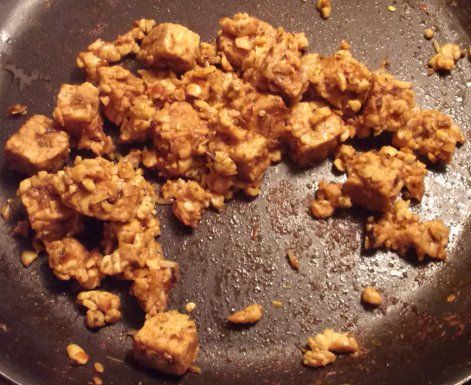 The first step, of course, is to get the pasta boiling, but while that's going on, there's tempeh to steam!  The seasoning blend seemed pretty unique to me: vegetable broth, soy sauce, tomato paste, garlic, fennel, red pepper flakes, oregano, and red wine vinegar.  I substituted liquid aminos for the soy sauce and licorice root for the fennel, neither of which differs much from the original ingredients.  It smelled really good while it was cooking, and I was kind of glad that I didn't have to take time to mellow the tempeh beforehand.  Once it was done, I did what the recipe said and mushed up half of the tempeh cubes.  Which was a lot of fun.  Who doesn't like crushing stuff with the back of a spoon?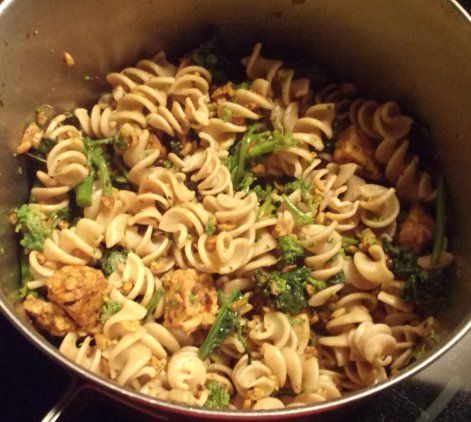 The broccoli rabe was cooked separately with only salt, pepper, and a bit of red wine vinegar to season it.  It smelled good, too, but I couldn't tell what it was going to taste like just from the aroma.  Once that was done, it got dumped in with the pasta, which already had the tempeh mixed in.  I used whole wheat spirals for the extra fiber and all that jazz.  Plus I love whole wheat pasta!  It has a much fuller flavor than the regular kind and is starting to be available in most of the shapes I like.

One thing I should note about this recipe is that the tempeh and broccoli rabe combination serves closer to six than four, especially with the amount of oil used.  You could probably decrease the oil by up to half and have it come out fine, but it's just as easy to cook the recommended amount of pasta and adjust the rest according to how many people you're feeding.
That said, I must admit that I could easily have eaten a second helping of this had there been any.  Broccoli rabe is amazing!  It has a bitter flavor, but not in a bad way, that reminds me of something else I can't quite put my finger on.  Whatever it is, it goes perfectly with pasta.  Seriously, you could just steam a whole whack of this stuff, throw a few seasonings on it, and mix it with any kind of pasta and it would taste fantastic.  As far as greens go, it doesn't beat out kale as my favorite, but it comes very, very close.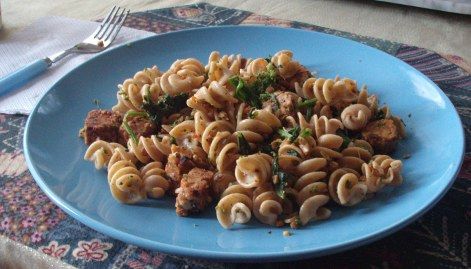 There really isn't anything that could be done to make this dish better, except maybe to add more broccoli rabe!  Veganomicon's description calls it the "perfect balance of pasta, protein, and greens," and I'm inclined to agree.  The taste and texture are excellent.  It looks pretty.  And it has broccoli rabe.  I think I may be a little obsessed.