I've discovered several awesome cookbooks by searching for my favorite cookbook authors in the local library system and going on a requesting binge.  Robin Robertson in particular has about a quadzillion books, some dating back to a time when it wasn't possible to wander into the grocery store and find viable vegan options.  366 Simply Delicious Dairy-Free Recipes
is one of them, and I managed to get my hands on a copy of it a couple of weeks ago via Paperback Swap, which is on the same scale of awesome as libraries and is a great way to pick up hard-to-find books for cheap.
If you like creamy dishes, this is the book for you.  As far as I can tell, the whole point of the recipes is to re-create the taste and texture of dairy-laden dishes for people who can't or don't eat dairy products.  There's a lot of tofu involved, especially silken tofu, and I'm pretty sure it's supposed to be the scary sloppy kind and not the vacuum-packed Mori-Nu stuff.  (More on that later.)
Some of the recipes are recognizable updates of old standards, but some are unique, like the curried tofu pasta.

Like I said, a lot of tofu involved in this book.  I'll admit that crumbled tofu in a creamy tofu sauce sounded a bit like overkill to me, but I'll try (just about) anything (vegan) once!  Especially anything with curry spices.  Plus there were also onions, carrots, and bell peppers in it, so it wasn't all tofu.
Speaking of spices, this recipe needed more.  The blend used in the recipe–garlic, ginger, curry powder, cayenne, and cilantro–is pretty classic curry fare, but not nearly enough to flavor the sauce.  It might be okay if you like your food on the mild side, but I'm the spicy food queen.  Which means more spices!  I think I've also mentioned in other curry-related posts that the curry powder I have on hand right now isn't very good.  Flavorful, sure, but nothing close to spicy enough to make a good curry.  I always wind up having to add cayenne even if a recipe doesn't call for it.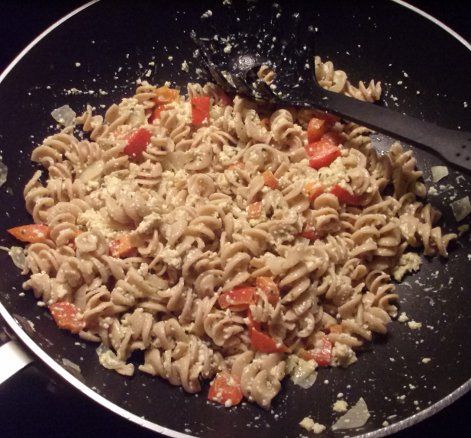 I also find that it's almost always necessary to use less pasta than suggested in Robin Robertson's recipes.  I find that a 2oz. serving of pasta is plenty when veggies and sauce are also involved, but quite often her recipes call for 4oz. per person.  Which works if you're really hungry, I suppose!  But I'm not sure the amount of sauce would cover that much pasta without the majority of it being dry.  It's definitely supposed to be a creamy dish.
Which brings me to the silken tofu.

After reading the recipe over several times and making a spirited attempt with an electric hand beater to get Mori-Nu silken tofu to become sauce, I've come to the conclusion that, unless otherwise noted, the recipes in this book should be made with the other type of silken tofu, the slick, weird-looking kind that can be used as a smoothie base.  Alternatively, you could probably stick the Mori-Nu in a blender with a little water and get it to thin out just fine.  Given that the other stuff weirds me out, that's what I'm going to try the next time I cook something from this particular book.
All in all, not my favorite recipe, but not bad either!
Question for the comments: What's your favorite older (vegan or non) cookbook to cook or adapt from?