It seems incongruous to blog about comfort food on a day when the sun is finally out and temperatures are slowly creeping back up.  But the majority of this past weekend was wet, rainy, and downright dreary, so comfort food was exactly the thing on my mind.  I was also craving seitan, and found this lovely recipe for seitan shepherd's pie hanging around in my bookmarks.  The directions and ingredients looked a bit intimidating, but I dove right in because the idea of warm mashed potatoes and savory gravy was too good to pass up.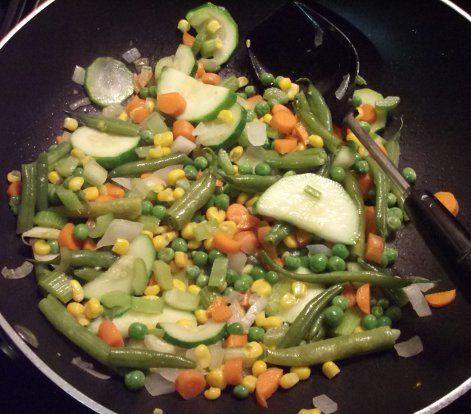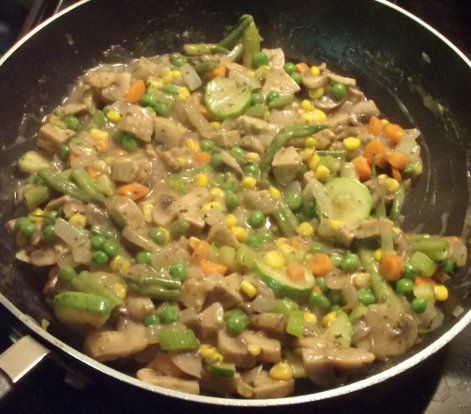 You can't argue with shepherd's pie filling like this, especially not right after the height of the season for garden yields.  I pulled a few frozen green beans from a recent round of blanching and was able to use fresh zucchini harvested only a few days before.  I've never made a shepherd's pie with either of those ingredients, and I loved the way everything looked all together in the pan.  The Italian spice blend made the gravy incredibly savory; I used the spices suggested with 1tsp each of oregano, basil, and parsley and 1/2tsp of marjoram.  The only thing missing was something red, but I can't think of a red veggie that would go with the rest and still taste right in this particular pie.
To get everything to come together at the same time, I did a lot of chopping beforehand and aimed to make the gravy while the potatoes were cooking.  It worked out pretty well, and I had the entire pie in the oven only a few minutes after my goal time.  Unfortunately, like most other times I've made dinner pies, I didn't quite seal the potatoes all the way around the top, so some gravy bubbled out.  No big deal when it comes to taste, but it definitely puts a dent in presentation.  On the other hand, the nutritional yeast in the mashed potatoes gave the top a nice golden color almost reminiscent of polenta.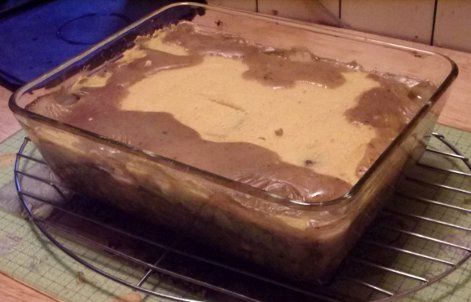 The whole deal took about an hour and a half from start to finish, including prep time.  But the nice thing about the final stretch is it's all inactive, so there's enough time to put together the suggested green salad.  Or, in my case, enough time to run out to the garden, pick kale, and make fresh massaged kale salad.  We didn't get our garden in until a little later this year, so there's still kale to be had, and we'll have it right up until the first hard freeze.  Despite having to go out and pick pesky cabbage worms off the leaves every couple of days, I can't complain.  Kale, as I've mentioned, is rather magical.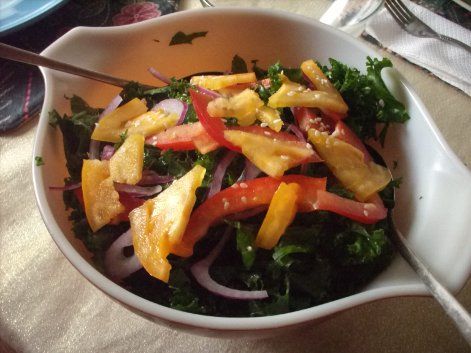 (So are orange tomatoes, one of which I picked up at the farmer's market recently.  I'm such a sucker for colorful food.)  While the pie was in the oven doing its pie thing, I massaged the kale with some olive oil and sea salt, then tossed in slivers of red onion, some red pepper slices, and wedges of orange tomato.  A little sprinkle of sesame seeds, and ta-da!  Salad!  It doesn't get fresher than that.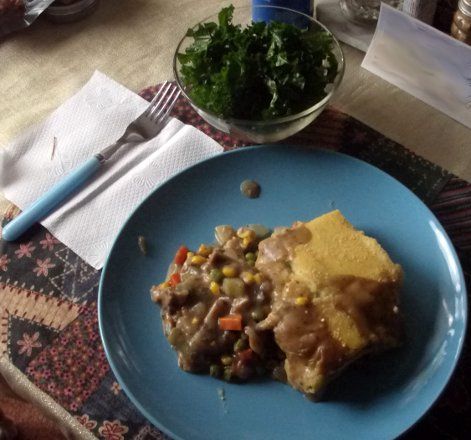 In the end I guess the meal was a mix of warming, savory comfort food and light, crunchy raw fare.  Part fall, part summer, just like this time of year.  As a side note, the gravy would be great to use on its own with anything that tastes good covered in gravy.  Just leave out the seitan and you have a thick, savory mushroom gravy that you can dump on potatoes, chickpea cutlets, other seitan dishes…whatever!