You know how sometimes you make a recipe because it sounds good, and then find that there's a sort of gap in the flavor?  I found that with Mushroom Cannellini Paprikas from Appetitie for Reduction.  I'd looked over the recipe before and kept skipping it because red wine is a big component of the sauce, and I can't drink it.  Red grapes and I simply do not get along.  But after discovering that the Scarlet Barley would be a great way to use up the beets that were still hanging around from the farmer's market, I went with the cookbook's suggestion and made the mushrooms to go along with it.  Nothing like a quick scroll through Google for cooking substitutes to make recipes like this work!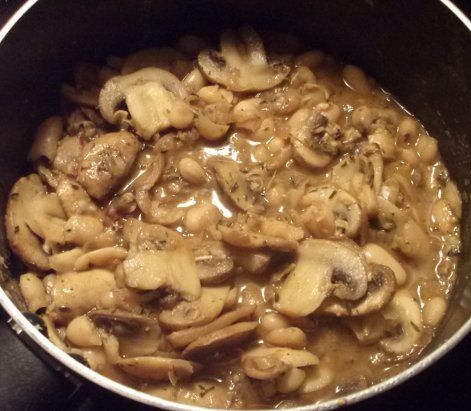 I'm usually quite impressed with stuff from Appetite For Reduction, which isn't to say I was unimpressed by this recipe, just that it needed something a bit more.  I'm sure the flavor would have been different were I able to use the wine, but even so I think the dish would benefit from something green.  Nothing fancy, just a bed of steamed kale or chard to serve it over and give it that little extra oomph I've come to expect from vegan food.  Or you could totally go with my mom's idea and serve the mushrooms over pasta, preferably something tri-color.  With greens, of course.  (Which we're definitely going to try at some point.)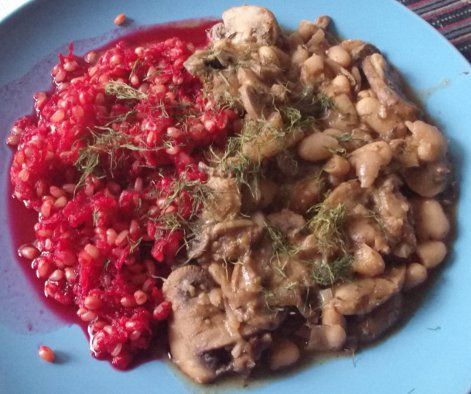 As for the Scarlet Barley…you're probably looking at the picture and thinking, "That doesn't looking like barley!"  And you'd be right, because it isn't; it's wheat berries!  We haven't had pearl barley around the house since I used it up making veggie barley soup, and I've got a jar of wheat berries on the shelves that has been staring at me since, you guessed it, they were on sale at the co-op.  So of course my first thought when looking for something to use instead of barley was, "Hey, wheat berries are sort of the same size!"  This sort of thinking can either turn out awesome or disastrous when it comes to cooking, as some of you well know…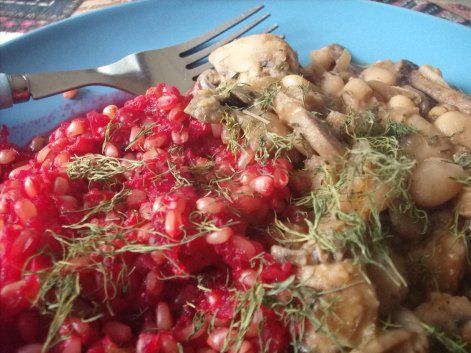 In this case, it wound up somewhere in between.  I have the feeling that barley would have absorbed more of the beet color, making it more "scarlet," and the water-to-wheat-berry ratio I found on the Internet was definitely a bit off.  I wound up having to drain some liquid once the wheat berries were done cooking.  Other than that, they turned out pretty tasty!  Except, have you ever noticed how gruesome it is to cook with beets?  Especially shredded beets.  Lots and lots of pink-red juices to deal with.  If you have a wooden cutting board, learn from my mistake and grate your beets over a plate…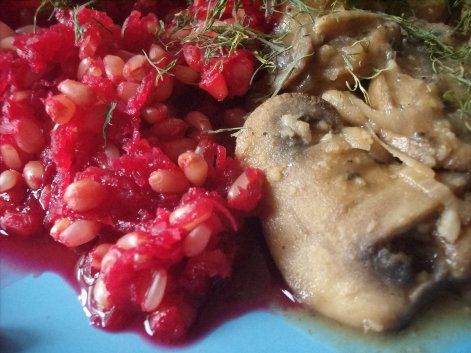 So this meal wound up being half-successful.  The flavors were good, and I really enjoy the hearty, chewy texture of wheat berries.  But a green veggie would definitely have made it feel more complete.  I do want to make the barley dish with actual barley at some point to see how it's supposed to turn out.  And wheat berries will be figuring into something else as soon as I can figure out what!  I'm thinking curried wheat berry salad.