Bean burgers were one of the first burger alternatives I started making when I began venturing into vegetarianism.  Veggie burgers seemed almost inevitable, like that first rather awkward encounter with tofu.  At the time, I wasn't well-versed in burgers, veggie or not.  Ground beef and I never got along outside of heavily-spiced tacos, and the only positive pre-veg burger experiences I can remember make me cringe now.  (Let's just say a certain fast food chain once made a burger I would actually eat, and leave it at that while I shudder.)
Like most vegetarians and new vegans, I went through my store-bought veggie burger phase and tried a bunch of different packaged burgers with mixed success.  Boca burgers suited me well for a while even after going vegan, until I realized they were full of garbage.  Amy's have been pretty consistently tasty, but Sunshine burgers are my favorite now.  Of course, nothing beats a good homemade veggie burger.  I feel like I sing the praises of homemade burgers every time I try a new vegan burger recipe, but it's hard to say enough good about them.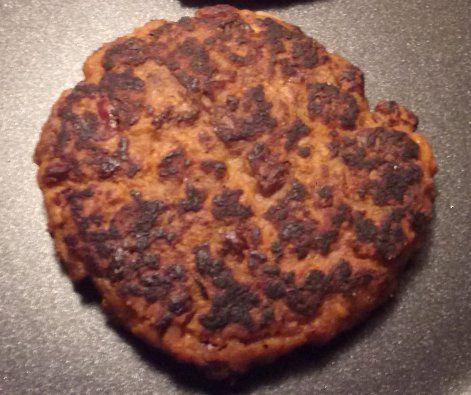 Going back to bean burgers for a minute, the BBQ black bean burgers from The Best Veggie Burgers on the Planet bear little resemblance to the first batch of mushy, dry-tasting kidney bean burgers I made in my vegetarian days.  And that, my friends, is a really, really good thing.  Because those burgers were terrible.  These, on the other hand, turned out to be all kinds of amazing.  Like any veggie burger, black bean burgers can be made several different ways, but this was the first time I'd ever seen barbecue sauce and peanut butter together in the same recipe.
You read that right.  Barbecue sauce and peanut butter.  The rest of the burger is pretty standard fare: beans, reconstituted TVP, a few seasonings, and flour to bind.  The barbecue sauce flavors everything, and I think the peanut butter is supposed to help the flour with holding the whole thing together, but I'm honestly not sure.  Whatever the case, it sounded interesting, so I went with it.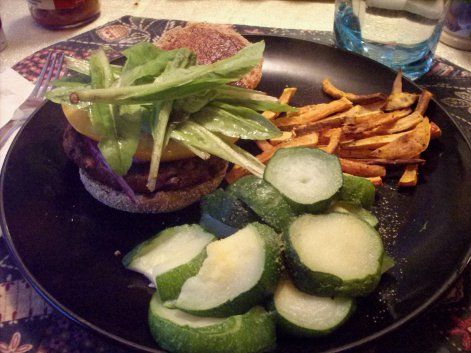 I had a couple issues with the recipe that were entirely my own fault.  First, I originally intended to only make two burgers: one for me and one for my mom.  From a recipe that makes eight, that meant I had to use one quarter of the ingredients.  Simple, right?  Sure.  Right up to the point where I threw in half of the necessary amount of barbecue sauce.  Fortunately that was easy enough to fix by adding more of the other stuff to make enough "dough" for four burgers instead of two, but the mix still looked oddly wet to me.  That was problem number two, which also turned out to be unfounded.  Once I put the burgers on to cook, they started firming up nicely and forming a crispy crust.
A lot of the burger recipes in The Best Veggie Burgers on the Planet have both baking and pan-frying methods  listed.  Most of the pan-frying instructions call for a rather horrifying amount of oil, so I employed the third option that I've been using to cook veggie burgers for a long time: pan-"frying" for people who don't want to use a lot of oil.  All I do is take a good nonstick pan, spray it with a tiny bit of olive oil cooking spray, and cook the burgers as directed.  They need to be moved around a little more than if they were in oil and sometimes need to be cooked at a lower heat for longer, but the end result is usually the same.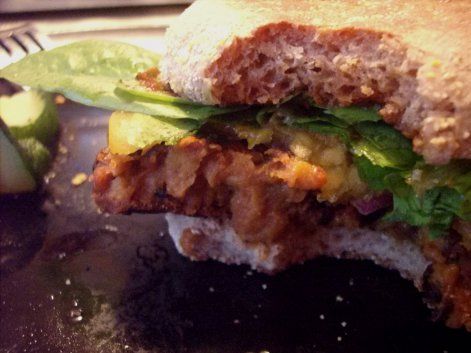 It worked really well for these.  They came out firm on the outside and just soft enough on the inside, with no odd flavors or weird surprises.  The peanut butter did figure into the overall flavor, but it didn't really taste…peanutty.  There was a smoothness to the texture that might not have been there without it, though barbecue sauce was definitely the predominant ingredient.  I'm glad I goofed and wound up with two extra.  They're in the freezer for the next time we need tasty veggie burgers in a hurry!
Question for the comments: What's the weirdest ingredient you've ever seen in a veggie burger recipe?