When my mom and I were in South Carolina, the Mount Pleasant Whole Foods had curried chickpeas in the hot bar every day.  And every day I looked at them, thinking I should grab some, but always passed them by for something else.  That is, until our last day there.  After a morning spent on a ridiculously awesome kayak tour, I was understandably hungry and loaded up my plate with a curried wheatberry salad, kale salad, and a big scoop of curried chickpeas.  Needless to say, they were awesome, so is it any surprise that I had to make this when it turned up in my Google Reader feed?

Chana masala, Indian takeout at home.  The Post Punk Kitchen blog never ceases to amaze me.  It was one of the first recipes sites I stumbled upon when beginning my journey into veganism, and I still look forward to new posts.  Isa's pictures are breathtaking and drool-worthy every time, which is befitting of her recipes.  The minute I saw this one, I had to have it.  I had to stop at the farm stand down the street and get a big honkin' tomato.  I had to break out the coconut oil and do everything up right.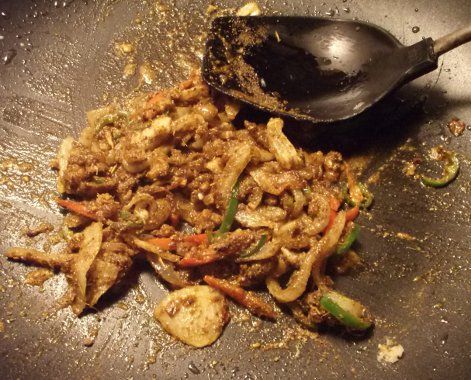 One of my favorite things about making Indian food is the smell.  No other cuisine has a spice mixture quite like Indian.  It's zippy and aromatic, and I can't get enough of it.  The only tweaks I made to Isa's recipe were ones of necessity, lacking the original ingredients: licorice for the fennel and garam masala for the cardamom.  (One of these days, I'll get actual cardamom!)  The spices even looked nice together, and let me tell you, the whole house started smelling pretty amazing once the onions were coated and everything started toasting in the pan.  Coconut oil imparts a particular scent of its own, too, one I love but don't often indulge in given the slightly freakish nutritional content of coconut.  It's a nice treat.
I did adjust the cloves, cayenne, cinnamon, and garam masala near the end of cooking time, but not by much.  Tip: if you make this recipe, don't overdo the hot spices!  I found out the hard way that the flavors really meld and intensify in the last ten minutes or so.  I like hot food, so the resulting kick was fine with me, but it was deceptively mild before that last stretch of time that lets everything blend.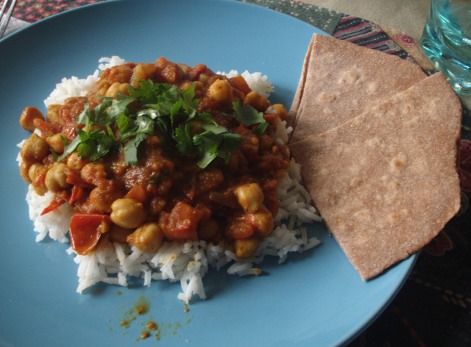 Feeling rather enterprising, I made some roti from the recipe in The 30-Minute Vegan's Taste of the East.  Easiest.  Thing.  Ever.  Getting the thickness and moisture content right is a bit tricky, but in terms of throwing a batch together and cooking it up, no sweat.  It's baffling how a recipe with three ingredients (plus a little sesame oil) can wind up tasting so amazing.  It made me wish I had some chutney.  Mmm, chutney…
Question for the comments: What's your favorite recent recipe from the fabulous vegan blogs around the Internet?