I'm not a hippie, but the recipe for Hippie Loaf in the Happy Herbivore Cookbook has intrigued me for a while.  One of my friends developed a mild gluten allergy a few years back, and since then I've kept an eye out for tasty, gluten-free recipes to pass along to her.  I also like eating gluten free stuff because I am a total bread addict and know I should give my body a break once and a while.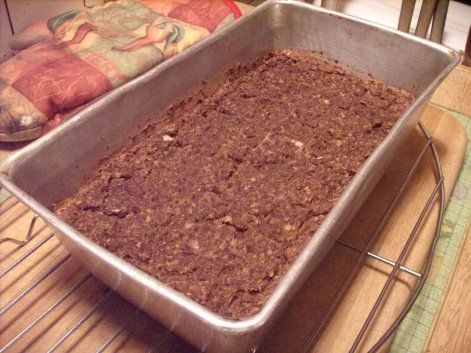 I didn't have any gluten-free flour on hand, so this attempt wasn't gf, but it was pretty darn tasty.  I learned something useful, too: being impatient and using the food processor is not always the smartest thing to do.  I read the recipe and figured that, hey, I pulse beans and other things for burgers and sandwich fillings in the food processor all the time, why not speed up the loaf process and make the whole thing in there?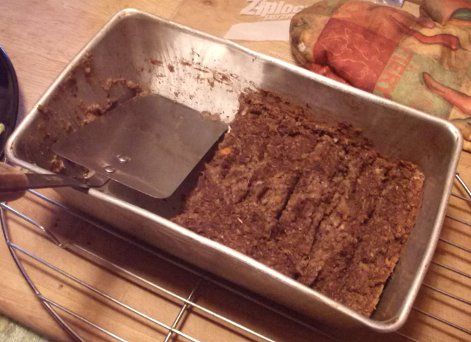 Advice?  Don't do it for this recipe.  It's fine for shredding the carrots and celery, and might be okay for mashing the beans separately, but it wasn't the best method for putting the whole loaf together.  By no means did I wind up with something inedible, but it was wetter and less "hippie"-chunky than it would have been had I mixed the ingredients by hand as directted.  I think the processing squished too much juice out of the veggies.  Whatever the case, it browned during baking like it was supposed to and wound up tasting just fine.
One upside to my mistake was that the leftover loaf pieces were soft enough to re-shape into some impromptu veggie burgers.  The loaf isn't quite as cohesive as things made with vital wheat gluten, but it holds together well enough to make a viable burger that tastes pretty awesome on an English muffin with some ketchup.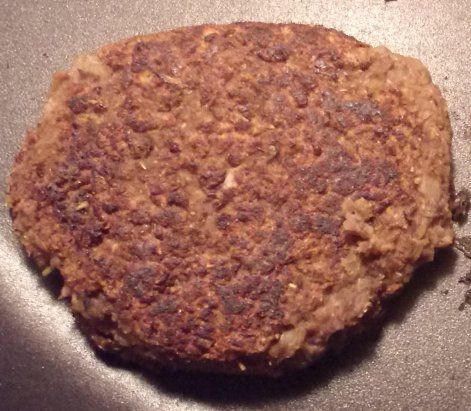 I cooked these in a pan, but I'd imagine you could probably bake them at 350°F or so like in the original loaf recipe and get good results.  And since every veggie burger needs something green on the side (c'mon, you know they do), I dipped into our current supply of homegrown kale to make a variant on this awesome kale salad from the Healthy. Happy. Life. blog.  I used about half a pound of kale and a quarter of the dressing recipe before topping it with some onions, shredded carrots, yellow summer squash, tomatoes, and a sprinkle each of black pepper and sesame seeds.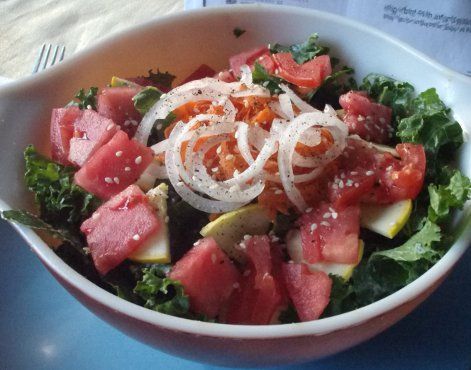 This is what it looked like before I, sadly, dropped it on the floor and had to rinse off half the kale so it would still be edible.  Obviously that changed the flavor quite a bit, since it got rid of a good portion of the dressing, so I can't really say what I thought of it as a recipe.  It wasn't bad, of course, just less tahini-ish than it might otherwise have been.  I'll have to make it again sometime and make an effort to keep all of it in the bowl!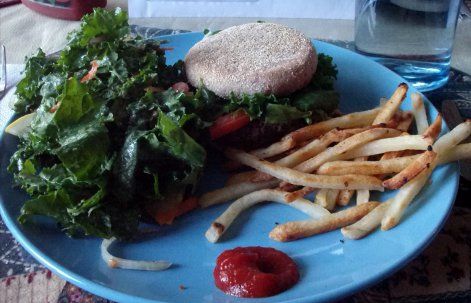 All in all, a good experiment.  Being a fan of non-meat loaves, I'm sure I'll make the Hippie Loaf again.  And this time I'll be patient and put it together the way I'm supposed to–by hand!