Raise your hand if you love veggie burgers!  I know I do.  Every time I try a new burger recipe, I fall in love with the process all over again.  Part of it is the endless possibilities of what you can put in a burger, as Kathy over at Healthy. Happy. Life. proved in her recent Veggie Burger Test Kitchen post.  I still haven't tried inventing my own burgers yet, but that post alone is enough to make me want to try!
Before I delve into that, though, there are still so many burger recipes from other people that I haven't made yet.  One I was able to put together recently was Great Grain and Veggie Burgers from Vegan Planet.  As part of my continuing obsession with every recipe book Robin Robertson has ever compiled, it seemed like a fitting choice.  That, and I recently discovered that I love bulgur.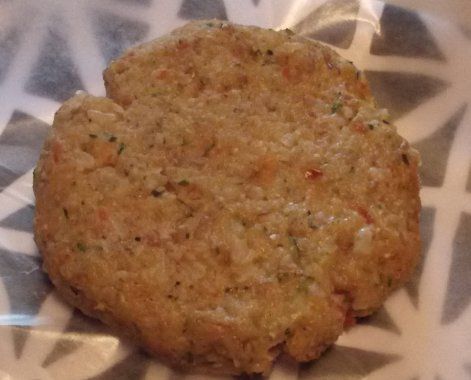 Aren't they pretty?  The base is cooked bulgur and brown rice, plus shredded onions, zucchini, carrots, and red bell pepper.  It was supposed to be roasted red peppers, but I didn't have any and was feeling too lazy to roast one myself. (Soon, though!)  Whizzed together in the food processor with a little vital wheat gluten, everything came together into these neat little golden-brown patties.  I think I lucked out, really; the recipe was for four and I got five pretty good-sized ones instead.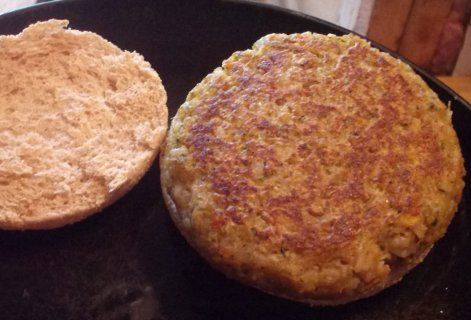 You can pan-fry or bake these, and as you can see I went with the pan-frying option.  No oil though…cooking a perfectly good veggie burger in a huge amount of oil is the same thing in my mind as dumping half a bottle of dressing onto salad.  I used a nonstick pan and a tiny bit of olive oil spray instead, cooked them slowly and for a little longer than the recipe suggested, and they came out nice.  And, again, pretty!  So now you're probably wondering, did they taste as good as they looked?

Short answer: YES!
Long answer: Got picky kids who won't eat their veggies or omni family who still shout "EW!" at the idea of vegan food?  Feed 'em these burgers.  As I've mentioned in other posts, my dad is the family "litmus test" for vegan food.  He'll eat vegan if that's what's served and claims that he's willing to try anything I make, but there are still some things he remains staunchly against. (Like black beans and cauliflower, both of which I've gotten him to eat without protest on several occasions in the recent past.)  I fixed him one of the leftover patties for lunch over the weekend and he loved it.  He had no idea he was eating such a healthy combination!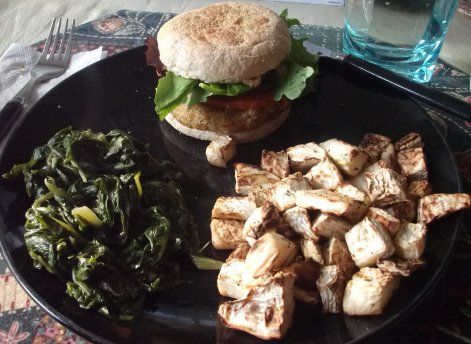 When Mom and I had the burgers for dinner, I tried something else new: turnips!  Roasted turnips, to be exact.  The farm stand down the road had a basket of huge ones for cheap, so I grabbed one to experiment with.  I wound up cutting about a pound of it into cubes; tossing them with olive oil, thyme, salt, and pepper; and roasting them for around 40 minutes at 400°F.  In my opinion, they weren't as good as roasted rutabagas, but they weren't bad.  I think I'd like them better cooked with something sweet, though, like maple syrup or agave.  What do you do with turnips?